News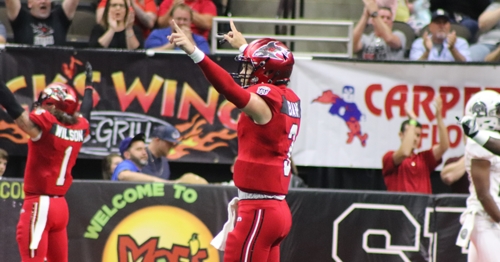 05/09/2019 3:27 PM
-
JACKSONVILLE – The 2017 NAL Champion Jacksonville Sharks face the 2018 NAL Champion Carolina Cobras Saturday night at the Veterans Memorial Arena at 7pm. This will be the Sharks second home game of the season, and the winner of tomorrow's game will be in 1st place. The Sharks currently sit at 2-1 while the Cobras are undefeated at 3-0. The last time these two teams faced off was in the NAL playoffs where the Cobras won that battle and advanced to the league championship. However, the Cobras now find themselves in the Shark tank with a 2019 Sharks team that is on a win-frenzy looking for revenge with a fan base that can back them up!

Whether you're a longtime Season Ticket Holder or about to head to your first Sharks game, check out everything you need to know for Saturday's game.


Fortnight & First Responders Night

Join us as the Sharks look to DOWN the NAL champs and drop in on some fun Fortnite action as we look to celebrate one of the most popular video games in history. From Fortnite dances offs, special performances from our dance team, to an actual Jacksonville Sharks Fortnite tournament, prepare for an epic night of Fortnite and Football! In addition, the Sharks look to use this night to honor all of the first responders that serve the Jacksonville community. Many first responders from our local police, fire, and paramedic departments will be recognized at tonight's game as we expect to have a huge battle on our hands against the undefeated Carolina Cobras.


BOGO Ticket Offer for all First Responders

For tomorrow's game all first responders and their families will receive a special buy one get one free ticket offer. We take pride in having the best fans around and want to reward those who protect and serve our community everyday. So whether you are a first responder or know a first responder let them know about this special day, Sharks First Responders Night.


Fortnite Tournament

The Jacksonville Sharks are wrapping up their three-week Fortnite tournament that was played every Friday. Tonight is the last night to sign up for the prelim Fortnite tournament. Winners will play Saturday at the Sharks game for the Championship title. There will be a 1st, 2nd and 3rd place winner, along with the ultimate winner who will be announced live at the Sharks game and will receive a grand prize provided by the Sharks. To enter tonight's tournament and for a shot to advance to the championship visit: http://bit.ly/jaxsharksfortnite to register.


Jacksonville Sharks Season Tickets

Season tickets for under $10 per game. Check out our Kids FREE season ticket offer. Buy an adult ticket get a kids ticket for FREE. (certain sections, call for more information) Great prices on great seats, give us a call for more information. Call 904-621-0700 or visit: jaxsharks.com


Jacksonville Sharks Single Game Tickets

Get a great deal for tonight's game, tickets start at only $10… That's right only $10! Visit the Arena Box Office on game day or get your tickets now by calling 904-621-0700.


Doors Open

On Saturday, the doors open at 5:30 p.m. for season ticket holders and 6pm for the general public. The game kicks off at 7pm.


We Need More Cowbell!

The Sharks are proud to bring back a great tradition, cowbells (8" in height 6" in width max) will be allowed at the arena, so bring the noise and have fun by purchasing a Sharks cowbell at our merchandise stand located on the main concourse. We will continue with the policy of fans NOT being able to bring large buckets or aerosol air horns into the arena.

Suite/Duval Street Entrance

This entrance will be open for all Sharks season tickets holders starting at 5:30pm. After that, all ticket holders can enter through this entrance.


Shark Nation Membership Experiences

For those members who qualify, be on the lookout next week for an email asking for your preferred game(s) and experience choice(s). Don't miss out on some great behind the scenes action. Choices include a game day Chalk Talk with Coach Burley, the Player Intro Experience, the On-Field Experience or the Sharks Locker Room Tour. After game and experiences are confirmed you will be sent and email with instructions on where to go.


Season Ticket Holder Gifts

We will have an announcement coming soon on this years Exclusive Season Ticket holder gift. We apologize for the delay


Halftime

Enjoy a special Attack Dance Team performance by the Jacksonville Sharks Attack Dance team and also performances by the Down Syndrome Association of Jacksonville (DSAJ) Starz and Showtime USA St. Johns.


Attack Dance Team Calendar

The Attack Dance Team is proud to announce that on Tuesday they revealed their 2019-2020 swimsuit calendar! Tonight the team will unveil to the Shark Tank each of the lucky ladies that were chosen for this year's calendar. Calendars will be on sale at the Sharks Team Store on the main concourse for only $10. Join the attack on the field after the game to get your autographs for your Attack Dance Team Calendar!


Fling-A-Football

How's your aim? Our halftime Fling-A-Football promotion gives you a chance to win a prize package that includes Sharks Prize Package! At just $1 per throw (or 6 for $5), you might as well give it a shot! Be sure to have your mini-footballs ready when halftime rolls around! Fling-A-Footballs are available for purchase inside the arena on the main concourse until the middle of the second quarter.


Jr. Attack Dance Camp

Register your child for Jr. Attack Dance Camp at this weekend game, visit the FIN-formation table behind section 107 or visit: www.jaxsharks.com/dancers/junior-attack-dance/ to sign up now online. Jr. Attack Dance Camp will be June 7-8 with a special halftime performance by the Jr. Attack! All campers will receive a free t-shirt for the camp and will given lunch for the June 8th game.


Jacksonville Sharks Happy Hour

The Shark are bringing back Happy Hour. Enjoy $3 Whitclaw beer at the Whiteclaw Bar by section 108 from 5:30pm to 7pm.


Arena Club/Reef and Cove Suites Buffet Menu

Drink Specials:

Sharknado $16 - Served in a Mason Jar with Swimming Shark Gummies.


Reef & Cove Menu:

Burgers with lettuce, tomato, onion, cheddar and pepperjack cheese, also Hotdogs with condiments. Sides also include baked beans, kettle chips, french onion dip, coleslaw. Beverages will include beer, wine, bottled water, and assorted sodas.


Arena Club Buffet:

Sausage sandwich for $14. Served with delicious beer braised bratwurst or andouille, fresh hoagie roll, onions and peppers, and homemade kettle chips.


About the Jacksonville Sharks
The Jacksonville Sharks are members of the National Arena League (NAL). The 2017 NAL Champions and ArenaBowl XXIV Champions and play all home games at the Jacksonville Veterans Memorial Arena. Shark Nation Memberships for the 2019 season are now available and start as low as $75 for the full season. To become a Shark Nation member or for more information please call (904) 621-0700. Follow the Sharks on facebook at facebook.com/jaxsharks and on Twitter and Instagram @jaxsharks, as well as the Attack Dance Team at facebook.com/sharkattackdance and Chum at facebook.com/chumsharks.