Front Office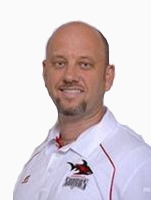 Jeff Bouchy
Operating Manager
E-mail:
Jeff Bouchy currently owns three companies, all serving the sports and entertainment markets. Destroyer Promotional Products ("DPP") imports promotional and retail items for sports teams. Formed in 2002, DPP provides giveaway products for all professional sports teams across the country. DPP imports from China, India, Taiwan and Vietnam. DPP sells bobbleheads, headwear, bagwear, sporting goods and many different novelty type products. Destroyer Graphics ("DG") was founded in 2006. DG is a 6000 sq. ft. screen printing and embroidery facility. DG produces over 500K promotional tees and rally towels per year for various sports teams and their retail shops. Destroyer Merchandising Company ("DMC") operates retail outlets for sports teams in their arenas. DMC currently operates the arena team shops for the Grand Rapids Griffins and the Rochester Americans of the American Hockey League and the Quad City Mallards of the International Hockey League.
From 1998 through 2002, Bouchy operated and was a minority owner of the Orlando Predators of the Arena Football League. His title was GM and VP of Football Operations. Bouchy also oversaw the Peoria Pirates of af2. During his tenure, the Predators consistently were first in the AFL in season ticket sales and second in corporate sponsorships. The team won several awards in the city and national acclaim for best marketing campaigns, including the famous "Fake Left, Fake Right" billboard campaign in 2000. Additionally, the Predators went to three straight ArenaBowl championship games, winning in 1998 and 2000.
From 1992-1998, Bouchy was the Chief Financial Officer of Gum Tech International, a publicly held chewing gum manufacturer located in Phoenix, AZ. Prior to that, Bouchy was an event coordinator at the Charlotte Coliseum, then home of the Charlotte Hornets in North Carolina.
Bouchy has a Master's of Science in Sports Management from West Virginia University and the Bachelor's of Science in Accounting from Arizona State University.