Player Roster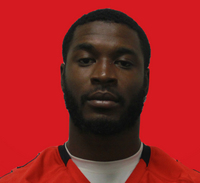 Active
Marvin Ross
#1
Position:
DB
Date of Birth:
05/11/1990
Height:
5' 11"
Weight:
180 lbs
Pro Experience:
6 Years Pro
College:
Florida A&M
Birthplace:
Jacksonville, FL
Biography:
Transaction Notes
Re-signed with the Jacksonville Sharks October 13, 2018. Enters his seventh season in arena football (Jacksonville: 2017-Present, Calgary Stampeders: 2017, Cleveland: 2016, Columbus: 2013-2015).
Pro Experience
2018: Played in 15 games and had the highest number of interceptions on the Sharks' defense with nine. Ross had 47 tackles, 19 pass breakups and returned a field goal for a touchdown. 2017: Played in six regular season games for the Sharks before joining the Calgary Stampeders. During his six games with the Sharks he tallied 22 tackles, eight interceptions and two pass breakups. Ross also played on special teams, recording six kick returns for 140 yards and one touchdown. Ross was awarded First Team All-NAL honors and led the Sharks in interceptions. 2016: Earned AFL's Rookie of the Year, tallying 84 tackles, 24 pass breakups, six interceptions and two forced fumbles. 2015: Played for the PIFL Champions the Columbus Lions at defensive back. 2014: Played for the Columbus Lions. 2013: His first year as a pro, he played for the Columbus Lions.
College
Attended Florida A&M University where he had a career total of 113 tackles, 14 pass breakups, four interceptions and two forced fumbles.
Personal
A native of Jacksonville, FL he attended Trinity Christian Academy where he excelled in football, track and basketball. Earned Second Team All-Conference Honors in Football.
Career Statistics »
| Year | League | Club | RETURNS | RETURN YDS | RETURN TDS | TACK | AST | SACKS | PB | FF | FR | BLK | INT | YDS | TDs |
| --- | --- | --- | --- | --- | --- | --- | --- | --- | --- | --- | --- | --- | --- | --- | --- |
| 2018 | National Arena League | Jacksonville Sharks | 1 | 56 | 1 | 49 | 14 | .0 | 19 | 0 | 0 | 0 | 9 | 5 | 0 |
| 2017 | National Arena League | Jacksonville Sharks | 6 | 140 | 1 | 22 | 8 | .0 | 2 | 0 | 0 | 0 | 8 | 122 | 1 |