Player Roster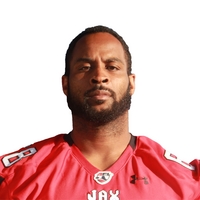 Active
Jermiah Price
#56
Position:
DL
Date of Birth:
02/02/1988
Height:
6' 3"
Weight:
255 lbs
Pro Experience:
7 years
College:
Oklahoma State
Birthplace:
Jacksonville, FL
Biography:
Transaction Notes

Assigned to the Jacksonville roster February 8, 2017. Enters his eighth season in Arena Football. (Jacksonville, 2017- present, Cedar Rapids, 2016, 2014, New Orleans, 2015, Sioux Falls, 2013, Green Bay 2012-2011).


Pro Experience
2017: Named First Team All-NAL landing 19.5 tackles, 9.5 for a loss, three forced fumbles, one fumble recovery and led the team in sacks with 9.5 all while missing 4 games due to injury. Price made the game winning play in the 2017 NAL Arena League Championship game by grabbing a fumble recovery that ended the Columbus Lions last drive. Price was also named the NAL Championship Game MVP. 2016: Named Second Team All-IFL with the Cedar Rapids Titans and Defensive Player of the Year. Played in 16 regular season games, had 60 tackles, 14 sacks, three forced fumbles, and one interception. 2015: Played for the New Orleans VooDoo for a short time before returning to the Titans. Was named Defensive Player of the Year an Named First Team All-IFL... led the league in sacks with 12.5. 2014: Began playing with the Cedar Rapids Titans. 2013: Played for the IFL's Sioux Falls Storm...became a two-time IFL Champion as the Storm won the United Conference two years in a row... Earned Second Team Al-IFL...had 55 tackles, seven sacks, two pass breakups and one interception. 2012: Named the 2012 United Bowl MVP. He had 69 tackles, five sacks, two pass breakups and one forced fumble while starting in all 14 games. 2011: Playing for the Green Bay Blizzard, he had 48 tackles, 10 sacks, four pass breakups and a forced fumble which helped them to their IFL Great Lakes Division Championship win.


College

Attended Oklahoma State University from 2008-2009... collected 45 tackles, 13 for loss, five sacks, two pass breakups and an interception. He spent his sophomore and freshman seasons at Jones County Junior College in Ellisville, Mississippi and had a total of 79 tackles, 15 sacks and three forced fumbles. Was an All-Conference, All-Region, and All-State community college player.


Personal

A native of Ellisville, Mississippi, Price attended Collins High School where he was an All-State Selection and earned Defensive Lineman of the Year.