Player Roster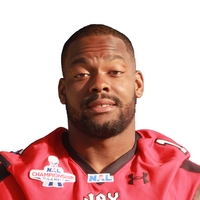 Active
Leon Mackey Sr.
#0
Position:
LB
Date of Birth:
02/28/1989
Height:
6' 5"
Weight:
260 lbs
Pro Experience:
5 Years Pro
College:
Texas Tech
Birthplace:
Mesa, AZ
Biography:
Transaction Notes
Re-signed with the Sharks October 25, 2018. Enters his sixth year of arena football and second with the Sharks. (Jacksonville: 2018-Present, Baltimore: 2017, Arizona: 2016-2017, Chicago: 2016, Minnesota: 2015, Arizona: 2014, Green Bay: 2014).
Pro Experience
2018: Played three games with the Sharks and recorded three tackles and one sack. 2017: Signed with the Baltimore Brigade of the Arena Football League but was placed on recallable reassignment. Later signed with the Arizona Rattlers where he played in three games, recording 2.5 tackles. 2016: Signed with the Chicago Eagles of the CIF, the Green Bay Blizzard of the IFL and finished the year with the Arizona Rattlers of IFL. 2015: Signed with the Minnesota Vikings where he participated in Rookie Mini-Camp and Training Camp. 2014: Signed with the Green Bay Blizzard for his rookie season but finished the season with the Arizona Rattlers.
College
Mackey began his college career at Hinds C.C. but transferred to Texas Tech where he totaled 47 tackles, 4.5 sacks and one forced fumble during his career. During his last season at Texas Tech, he received All-Big 12 Honors.
Personal
Mackey is a native of Wilmington, Delaware where he attended Christiana High School. Mackey was a highly recruited high school star, earning offers from Clemson, South Carolina, Arkansas and North Carolina.
Career Statistics »
| Year | League | Club | TACK | AST | SACKS | PB | FF | FR | BLK | INT | YDS | TDs |
| --- | --- | --- | --- | --- | --- | --- | --- | --- | --- | --- | --- | --- |
| 2018 | National Arena League | Jacksonville Sharks | 3 | 4 | 1.0 | 0 | 0 | 2 | 0 | 0 | 0 | 0 |
| 2017 | Arena Football League | Baltimore Brigade | 0 | 0 | .0 | 0 | 0 | 0 | 0 | 0 | 0 | 0 |
| 2017 | Indoor Football League | Arizona Rattlers | 3 | 1 | .0 | 0 | 0 | 0 | 0 | 0 | 0 | 0 |
| 2016 | Arena Football League | Arizona Rattlers | 4 | 0 | .0 | 0 | 0 | 1 | 0 | 0 | 0 | 0 |
| 2016 | Canadian Football League | Winnipeg Bombers | 0 | 0 | .0 | 0 | 0 | 0 | 0 | 0 | 0 | 0 |
| 2015 | National Football League | Minnesota Vikings | 0 | 0 | .0 | 0 | 0 | 0 | 0 | 0 | 0 | 0 |
| 2014 | Arena Football League | Arizona Rattlers | 0.5 | 1 | .5 | 0 | 0 | 0 | 0 | 0 | 0 | 0 |