Player Roster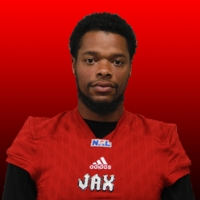 Active
Chris Gilchrist
#7
Position:
WR
Date of Birth:
02/18/1994
Height:
6' 5"
Weight:
200 lbs
Pro Experience:
2 Years Pro
College:
West Texas A&M
Birthplace:
Hermiston, OR
Biography:
Transaction Notes
Re-signed with the Jacksonville Sharks November 13, 2019 for his third year of arena football with the Sharks. (Jacksonville Sharks: 2018-Present)
Professional
2019: Gilchrist started his season with the Sharks at wide receiver where he recorded 16 receptions for 202 yards and three touchdowns. During the 2019 NAL Championship game, Gilchrist filled in for a suspended Cody Saul at jack linebacker. He recorded eight tackles and two defensive touchdowns and was named the NAL Championship MVP. 2018: Gilchrist played 15 games during his rookie season with the Jacksonville Sharks. He scored 14 touchdowns, received 706 yards averaging 48 yards per game.
College
Gilchrist finished his college career at West Texas A&M where in 2016, he recorded 326 yards and four touchdowns. In 2014 and 2013, Gilchrist played for the Mt. San Antonio College Mounties where he recorded 53 receptions for 800 yards and four touchdowns in his last season with the team. In 2012, he began playing college football as a redshirt at Florida Atlantic University.
Personal
Gilchrist is a native of Covina, CA and was a star receiver at Charter Oak High School where he earned first team All-CIF Inland Division, Co-MVP of the CIF, and Most Valuable Receiver.
Career Statistics »
| Year | League | Club | RUSH ATT | RUSH YDS | RUSH TDS | RECEPTIONS | REC. YDS | REC. TDS | RETURNS | RETURN YDS | RETURN TDS |
| --- | --- | --- | --- | --- | --- | --- | --- | --- | --- | --- | --- |
| 2019 | National Arena League | Jacksonville Sharks | 1 | 4 | 0 | 16 | 202 | 3 | 0 | 0 | 0 |
| 2018 | National Arena League | Jacksonville Sharks | 3 | 16 | 0 | 59 | 706 | 14 | 0 | 0 | 0 |