Player Roster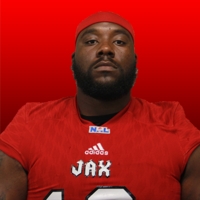 Active
Derrick Zeigler
#66
Position:
OL
Date of Birth:
12/13/1987
Height:
6' 5"
Weight:
320 lbs
Pro Experience:
1 Year Pro
College:
Northeast Mississippi Community College
Birthplace:
Elmore, AL
Biography:
Transaction Notes
Re-signed with the Sharks Oct. 22, 2018 for his second season of arena football and second with the Sharks. (Jacksonville: 2018-Present).

Professional
2018: In his first year with the Sharks he played in 11 games where he helped the Sharks to the playoffs in his first season. Zeigler earned First Team All-NAL honors, he was the only offensive player in 2018 on the Sharks roster to earn this title.
College
Zeigler attended Northeast Mississippi Community College.
Personal
Zeigler is a native of Elmore, AL and played football at Holtville High School in Holtville, AL.