Player Roster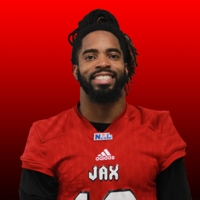 Active
Seth Ellis
#15
Position:
DB
Date of Birth:
04/03/2018
Height:
6' 1"
Weight:
180 lbs
Pro Experience:
2 Years Pro
College:
Lamar University
Birthplace:
Coolidge, AZ
Biography:
Transaction Notes:
Seth Ellis signed with the Jacksonville Sharks on April 17, 2019 for his second year of arena football (Jacksonville Sharks: 2018 - Present).
Professional:
2019: In his second year with the Sharks, Ellis had a career year recording 59.5 tackles (49 solo, 21 assisted) along with 25 pass-breakups,13 interceptions (franchise-record) and one defensive touchdown and was named First-Team All-NAL. 2018: Played in 13 games with the Sharks during his rookie season and had the highest number of tackles 57.5. He also had three interceptions, eight pass break ups, and one recovered fumble.
College:
Ellis started his college career at Pima Community College. In 2013, Ellis played in six games and caught 79 passes for 307 yards. In 2014, Ellis transferred to Lamar University and played Defensive Back. In 12 games with the Cardinals, Ellis recorded 62 total tackles, nine pass breakups, and one quarterback hurry. In his senior year in 2015, Ellis played in 11 games and had 62 total tackles, 49 of which were solo tackles. He forced two fumbles, had 10 pass breakups and one interception.
Personal:
Ellis is a native of Coolidge, Arizona and played high school football at Coolidge High School. He was named MVP of the Arizona Coaches Association All-Star Game. He was ranked number 13 of all running backs in the state of Arizona as a senior.
Career Statistics »
| Year | League | Club | RETURNS | RETURN YDS | RETURN TDS | TACK | AST | SACKS | PB | FF | FR | BLK | INT | YDS | TDs |
| --- | --- | --- | --- | --- | --- | --- | --- | --- | --- | --- | --- | --- | --- | --- | --- |
| 2019 | National Arena League | Jacksonville Sharks | 0 | 0 | 0 | 0 | 0 | .0 | 29 | 1 | 0 | 0 | 14 | 126 | 1 |
| 2018 | National Arena League | Jacksonville Sharks | 0 | 0 | 0 | 59.5 | 17 | .0 | 9 | 0 | 1 | 0 | 3 | 3 | 0 |