Player Roster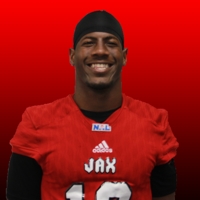 Active
Markus Smith
#10
Position:
DB
Date of Birth:
04/05/1992
Height:
6' 2"
Weight:
195 lbs
Pro Experience:
3 Years Pro
College:
Nevada Reno
Birthplace:
Reno, NV.
Biography:
Transaction Notes:
Re-Signed with the Jacksonville Sharks for his fourth season of arena football in 2019 (Jacksonville Sharks: 2018-Current, Arizona Rattlers: 2015-2016).
Professional:
2019: In his second year with the Sharks, Smith had a breakout year recording a career-high 66.5 tackles (57 solo, 29 assisted) along with 10 interceptions and 3 defensive touchdowns and was named 2nd Team All-NAL. 2018: Started his Jacksonville career and made five tackles and two pass breakups before being placed on Injured Reserve for the majority of the season. 2016: Played for the Arizona Rattlers and totaled 25 tackles and one pass breakup. 2015: Smith started his arena career with the Arizona Rattlers, totaling 12 tackles.
College:
Smith attended the University of Nevada Reno. He made a total of 75 tackles, three interceptions, seven pass breakups, and one fumble recovery in his two seasons.
Personal:
Smith is a native of Corona, CA and attended Corona High School in Corona, CA.