Player Roster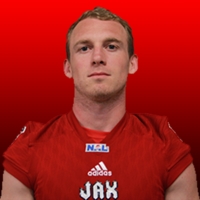 Active
Brandon Behr
#19
Position:
K
Date of Birth:
04/05/1993
Height:
5' 11"
Weight:
190 lbs
Pro Experience:
1 Year Pro
College:
University of South Florida
Birthplace:
Fleming Island, FL
Biography:
Transaction Notes:
Behr signed with the Jacksonville Sharks for the 2018 for his rookie season of arena football (2018-Present).
Pro Experience:
2018: In his first season with the Jacksonville Sharks he played in 10 games and kicked six for 13 in field goals and 40 for 54 for XPTs . Behr finished the year with two dueces and started the year on a onside kick that he recovered himself against the Columbus Lions April 21. Behr was third in the NAL for field goal percentage (60 percent).
College:
Behr attended Jacksonville University from 2012-2015, and transferred to the University of South Florida in 2016 for graduate school. Behr played a total of 26 games at JU and set two school records for his 27 for 41 in field goals and 87 for 90 XPTs. During his year at USF, he was 4 for 7 in field goals. In 2013 Behr was named to Pioneer Football League Academic Honor Roll and was named second team All-Pioneer Football League team in 2014.
Personal:
Behr is a native to Orange Park, FL where he attended Fleming Island High School.
Career Statistics »
| Year | League | Club | Deuce | FGA | FGM | XPM | XPA |
| --- | --- | --- | --- | --- | --- | --- | --- |
| 2018 | National Arena League | Jacksonville Sharks | 2 | 14 | 6 | 42 | 56 |