Player Roster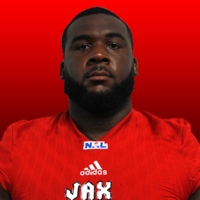 Active
Jabari Buckley
#72
Position:
OL
Date of Birth:
08/13/1990
Height:
6' 6"
Weight:
335 lbs
Pro Experience:
4 Years Pro
College:
Belhaven University
Birthplace:
Kosciusko, MS
Biography:
Transaction Notes
Buckley signed with the Jacksonville Sharks Oct. 18, 2018 for his fifth season of arena football and first with the Sharks. (Jacksonville Sharks: 2019-Present, Sioux Falls Storm: 2017-2018, Chicago Eagles: 2016).
Professional
2018: Played for his second season with the Sioux Falls Storm where he had one tackle. 2017: Signed with the Sioux Falls Storm where he solidified an offensive line that led the way to over 1,200 yards rushing out of the backfield. 2016: Signed with the Chicago Eagles of the Champions Indoor Football league and played in six games.
College
Attended Belhaven University (2011-2014).
Personal
Buckley is a native of Kosciusko, MS,where he attended Robert S. Alexander High School.