Player Roster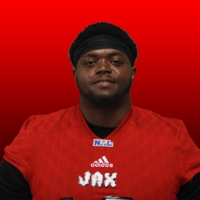 Active
Aaron Bellazin
#33
Position:
DL
Date of Birth:
11/18/1991
Height:
6' 2"
Weight:
265 lbs
Pro Experience:
2 Years Pro
College:
North Texas
Birthplace:
Everman, TX
Biography:
Transaction Notes
Signed with the Sharks Oct. 18, 2018 for his third year of arena football and first with the Sharks. (Jacksonville: 2019-Present, Texas: 2017, Tri-Cities: 2015).
Pro Experience
2017: Signed with the Texas Revolution in the Champions Indoor Football league. During his time with the Revolution he recorded 12 tackles and one sack in the six games he played. 2015: signed with the Tri-Cities Fever in the Indoor Football league, where he made 18 tackles in six games.
College
Attended University of North Texas (2010-2013) where he played defensive line and recorded 84 tackles, 15 sacks and five forced fumbles. In 2013, he earned Conference-USA all-conference 2nd team honors.
Personal
Bellazin is a native of Everman, TX and attended Everman High School.
Career Statistics »
| Year | League | Club | TACK | AST | SACKS | PB | FF | FR | BLK | INT | YDS | TDs |
| --- | --- | --- | --- | --- | --- | --- | --- | --- | --- | --- | --- | --- |
| 2019 | National Arena League | Jacksonville Sharks | 18 | 14 | 9.0 | 0 | 1 | 1 | 0 | 1 | 5 | 1 |
| 2017 | Champions Indoor Football | Texas Revolution | 12 | 0 | 1.0 | 0 | 0 | 0 | 0 | 0 | 0 | 0 |
| 2015 | Indoor Football League | Tri-Cities Fever | 0 | 0 | .0 | 0 | 0 | 0 | 0 | 0 | 0 | 0 |