Player Roster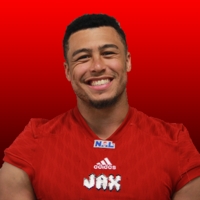 Active
Nick Woodman
#22
Position:
DL
Date of Birth:
08/17/1994
Height:
6' 5"
Weight:
250 lbs
Pro Experience:
1 Year Pro
College:
Utica College
Birthplace:
Utica, NY
Biography:
Transaction Notes
Signed with the Sharks Oct. 26, 2018 for his second season of arena football and first with the Sharks. (Jacksonville: 2019-Present, Jersey: 2018).
Pro Experience
2018: Woodman signed with the Jersey Flight of the American Arena League for the Flight's inaugural season. 2016: He was invited to attend the New York Giants mini-camp in 2016.
College
Attended Utica College (2013-2015) where he recorded 179 tackles and 27.5 sacks.
Personal
Woodman is a native of Utica, NY and attended Proctor High School.
Career Statistics »
| Year | League | Club | TACK | AST | SACKS | PB | FF | FR | BLK | INT | YDS | TDs |
| --- | --- | --- | --- | --- | --- | --- | --- | --- | --- | --- | --- | --- |
| 2019 | National Arena League | Jacksonville Sharks | 43 | 22 | 14.0 | 7 | 4 | 2 | 0 | 0 | 0 | 0 |
| 2018 | American Arena League | Jersey Flight | 0 | 0 | .0 | 0 | 0 | 0 | 0 | 0 | 0 | 0 |