Player Roster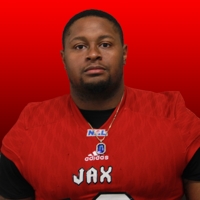 Active
Alstevis Squirewell
#39
Position:
FB
Date of Birth:
09/17/1992
Height:
6' 0"
Weight:
265 lbs
Pro Experience:
Rookie
College:
Newberry College
Birthplace:
Great Falls, SC
Biography:
Transaction Notes
Alstevis Squirewell signed with the Jacksonville Sharks for his first year of arena football on February 13, 2019 (Jacksonville: 2019 - Present)
College
Squirewell attended Newberry College, a Division II school, and played on the defensive line. From 2013-2015, Squirewell totaled 154 tackles (69 solo) (85 assisted), 13 sacks, two interceptions, four batted balls, three forced fumbles, one fumble recovery, and one blocked kick. In 2015, his lone interception was returned for a 32-yard touchdown.
Personal
Squirewell is a native of Great Falls, SC and attended Great Falls High School. In his high school career, he was a four-year starter. In his 2010-2011 season, he totaled 1,137 rushing yards and 15 touchdowns on 125 carries as well as four receptions for 33 yards. He had 104 total tackles, four sacks, and two interceptions.
Career Statistics »
| Year | League | Club | RUSH ATT | RUSH YDS | RUSH TDS | RECEPTIONS | REC. YDS | REC. TDS |
| --- | --- | --- | --- | --- | --- | --- | --- | --- |
| 2019 | National Arena League | Jacksonville Sharks | 0 | 0 | 0 | 0 | 0 | 0 |