Player Roster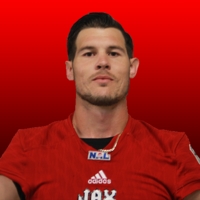 Active
Jonathan Bane
#3
Position:
QB
Date of Birth:
09/04/1991
Height:
6' 4"
Weight:
205 lbs
Pro Experience:
5 Years Pro
College:
Dakota Wesleyan
Throws:
R
Birthplace:
Temple, TX
Biography:
Transaction Notes
Jonathan Bane signed with the Jacksonville Sharks on February 22, 2019 for his fifth season of arena football. (Jacksonville Sharks: 2019-Present, Maine Mammoths: 2018, Bismarck Bucks: 2017, Tampa Bay Storm: 2016, Richmond Raiders: 2014-2015)
Professional
2019: Bane signed with the Sharks in 2019 and played 12 games where he went 172-309 for 1,938 yards with 40 touchdowns and 14 interceptions. 2018: Bane played for the Maine Mammoths and threw 249-of-494 for 2,689 yards, 59 touchdowns, and 18 interceptions. 2017: Bane played for the Bucks and totaled 116 completions on 210 attempts for 1,342 yards, 28 touchdowns, and five interceptions. 2016: Made his AFL debut with the Tampa Bay Storm and was 46-of-97 for 526 yards, eight touchdowns, and four interceptions. 2015: Made rookie debut and played with the Richmond Raiders and earned PIFL Offensive Player of the Year and was named First Team All-PIFL Honors. Threw for 3,147 yards and 62 touchdowns.
College
During his college career, Bane played for Dakota Wesleyan University where he played from 2010 to 2013. During his career as a Tiger, he threw for 9,224 yards, 1,360 completions, and 83 touchdowns. Bane set the school record for most passing yards in a single game (457), longest pass in a single game (99), and most passing yards in a season (2,817). Bane finished his college career as a 2x All-GPAC honorable mention (2012,2013) and a Second Team All-GPAC in 2011.
Personal
Bane is a native Texan, who grew up in Temple, TX he played for Rogers High school in Rogers, TX before transferring and finishing school at Temple High School.
Career Statistics »
| Year | League | Club | RAT | ATT | COMP | % | YDS | TD | INT | RUSH ATT | RUSH YDS | RUSH TDS |
| --- | --- | --- | --- | --- | --- | --- | --- | --- | --- | --- | --- | --- |
| 2019 | National Arena League | Jacksonville Sharks | 95.3 | 309 | 172 | 55.7 | 1,938 | 40 | 14 | 14 | 40 | 3 |
| 2018 | National Arena League | Maine Mammoths | 91.2 | 494 | 249 | 50.4 | 2,689 | 59 | 18 | 30 | 141 | 4 |
| 2017 | Champions Indoor Football | Bismarck Bucks | 104.4 | 210 | 116 | 55.2 | 1,342 | 28 | 5 | 40 | 41 | 3 |
| 2016 | Arena Football League | Tampa Bay Storm | 67.6 | 97 | 46 | 47.4 | 526 | 8 | 4 | 7 | 16 | 0 |
| 2015 | Professional Indoor Football League | Richmond Raiders | .0 | 0 | 0 | .0 | 3,147 | 62 | 0 | 0 | 0 | 0 |