Player Roster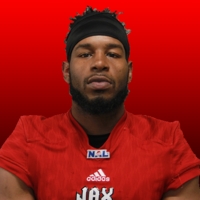 Active
Robert Brown
#8
Position:
DB
Date of Birth:
02/20/1993
Height:
6' 3"
Weight:
215 lbs
Pro Experience:
3 Years Pro
College:
Seton Hill
Birthplace:
Virginia Beach, VA
Biography:
Transaction Notes:
Signed with the Jacksonville Sharks for his third season of arena football (Jacksonville Sharks: 2019 - Present, Philadelphia Soul: 2017-2018),
Professional:
2019: Brown signed with the Sharks in 2019 where he played all 16 games recording a career-high 59.5 tackles (46 solo, 27 assisted) 8 pass break-ups and 6 interceptions. 2018: Played with the Philadelphia Soul and totaled 15 tackles. 2017: Started his arena career with the Philadelphia Soul and forced one fumble. Brown also attended the British Columbia Lions training camp in 2017 before playing with the Soul.
College:
Brown attended Globe Institute of Technology for two years. He then transferred to Seton Hill University where he totaled 15 tackles, one sack, two pass breakups, two forced fumble, and one fumble recovery.
Personal:
Brown is a native of Virginia Beach, VA and attended Tallwood High School. He was named second team for All-Beach District as a quarterback and a first team All-Beach District as a punter.
Career Statistics »
| Year | League | Club | RETURNS | RETURN YDS | RETURN TDS | TACK | AST | SACKS | PB | FF | FR | BLK | INT | YDS | TDs |
| --- | --- | --- | --- | --- | --- | --- | --- | --- | --- | --- | --- | --- | --- | --- | --- |
| 2019 | National Arena League | Jacksonville Sharks | 0 | 0 | 0 | 59 | 26 | .0 | 8 | 0 | 1 | 0 | 6 | 19 | 0 |
| 2018 | Arena Football Leaue | Philadelphia Soul | 0 | 0 | 0 | 0 | 0 | .0 | 0 | 1 | 0 | 0 | 0 | 0 | 0 |
| 2017 | Arena Football League | Philadelphia Soul | 0 | 0 | 0 | 9 | 6 | .0 | 0 | 0 | 0 | 0 | 0 | 0 | 0 |