Player Roster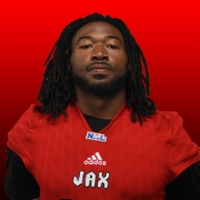 Active
Jarmon Fortson
#4
Position:
WR
Date of Birth:
06/07/1989
Height:
6' 3"
Weight:
225 lbs
Pro Experience:
7 Years Pro
College:
Florida State
Birthplace:
Columbus, GA
Biography:
Transaction Notes:
Jarmon Fortson signed with the Jacksonville Sharks on April 5, 2019 for his seventh year of arena football (Jacksonville Sharks: 2019 - Present, Columbus Lions: 2013-2018).
Professional:
2019: Fortson signed with the Sharks in 2019 where he started all 16 games recording 83 catches for 909 yards and 19 touchdowns. 2018: Played with the Columbus Lions and was third in the entire National Arena League in receptions (104) and receiving touchdowns (31). Fortson also led the league in scoring, putting up 192 total points for the Lions last year. He had 1,029 receiving yards. In the playoffs, he had 10 receptions for 107 yards. 2017: Played with the Columbus Lions and helped lead his team to the first-ever National Arena Bowl. That year, he had 72 receptions for 780 yards and 35 touchdowns. In the playoffs, he saw nine receptions for 84 yards and one touchdown. 2013-2016: Played with the Columbus Lions and helped them appear in the playoffs in three seasons, winning the championship in two of the three seasons.
College:
Fortson attended Florida State University and made 53 catches for 747 yards and five touchdowns in his two years of being at FSU.
Personal:
Fortson is a native of Columbus, GA and attended Carver High School in Columbus, GA.
Career Statistics »
| Year | League | Club | RUSH ATT | RUSH YDS | RUSH TDS | RECEPTIONS | REC. YDS | REC. TDS | RETURNS | RETURN YDS | RETURN TDS |
| --- | --- | --- | --- | --- | --- | --- | --- | --- | --- | --- | --- |
| 2019 | National Arena League | Jacksonville Sharks | 6 | 11 | 1 | 83 | 909 | 19 | 0 | 0 | 0 |
| 2018 | National Arena League | Columbus Lions | 2 | 6 | 1 | 114 | 1,136 | 31 | 2 | 10 | 0 |
| 2017 | National Arena League | Columbus Lions | 1 | 3 | 1 | 81 | 864 | 16 | 4 | 66 | 0 |