Player Roster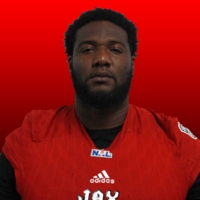 Inactive
Damien Parris (Team Suspension)
#77
Position:
OL
Date of Birth:
04/09/2019
Height:
6' 7"
Weight:
285 lbs
Pro Experience:
Rookie
College:
Houston
Birthplace:
Miami, FL
Biography:
Transaction Notes:
Signed with the Jacksonville Sharks for his first year of arena football (Jacksonville Sharks: 2019 - Present). He played in the Your Call football league.
College:
Parris attended Contra Costa Community College before transferring to the University of Houston. At Contra Costa, he was ranked 13th of all community college offensive linemen in the country. He was also on the Underclassman Junior College Top 25 in 2012. At Houston, he was a redshirt in 2013, but saw the field in 2014 and 2015.
Personal:
Parris is a native of Miami, FL and attended Florida Christian Institute in Miami, FL.