Player Roster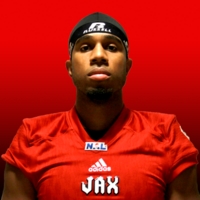 Active
Garry Chouloute
#17
Position:
QB
Date of Birth:
09/11/1993
Height:
6' 4"
Weight:
205 lbs
Pro Experience:
1 Year Pro
College:
Webber International
Throws:
R
Birthplace:
Miami, FL
Biography:
Transaction Notes:
Garry Chouloute signed with the Jacksonville Sharks for his rookie season of arena football on June 13, 2019 (Orlando Predators: 2019, Jacksonville Sharks: 2019 - Present)
Professional:
2019: Chouloute started the 2019 season with the Orlando Predators before being released by the team. While with the Predators, he was 13-of-28 (46.42%) for 105 yards and two touchdowns. He also rushed five times for 35 yards and one touchdown. Chouloute then signed with the Sharks in June 2019 and played 3 games where he went 2-2 for 15 yards. He also rushed 3 times for two yards and two touchdowns.
College:
Chouloute attended Webber International University, where he threw 279-of-492 (56.71%) for 2,626 yards, 19 touchdowns, and 12 interceptions. He rushed 25 times for 274 yards and 15 touchdowns.
Personal:
Chouloute is a native of Miami, FL and attended Felix Varela High School.