Player Roster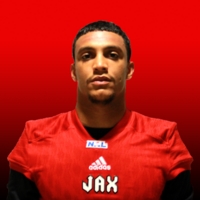 Active
Kamrin Solomon
#6
Position:
WR
Date of Birth:
08/02/1995
Height:
6' 1"
Weight:
170 lbs
Pro Experience:
1 Year Pro
College:
Florida Atlantic University
Birthplace:
Jacksonville, FL
Biography:
Transaction Notes:
Kamrin Solomon signed with the Jacksonville Sharks for his first season of arena football (Jacksonville Sharks: 2019 - Current)
Professional:
2019: In his first year of arena football, Solomon recorded 10 catches for 129 yards and 5 touchdowns in five games with the Sharks.
College:
Solomon attended Florida Atlantic University and totaled 69 receptions for 867 yards and three touchdowns.
Personal:
Solomon is a native of Jacksonville, FL and attended Mandarin High School. He played football, basketball, and ran track for the Mustangs. He earned a total of eight Varsity Letters throughout high school.
Career Statistics »
| Year | League | Club | RUSH ATT | RUSH YDS | RUSH TDS | RECEPTIONS | REC. YDS | REC. TDS | RETURNS | RETURN YDS | RETURN TDS |
| --- | --- | --- | --- | --- | --- | --- | --- | --- | --- | --- | --- |
| 2019 | National Arena League | Jacksonville Sharks | 1 | 7 | 0 | 10 | 129 | 5 | 0 | 0 | 0 |