Player Roster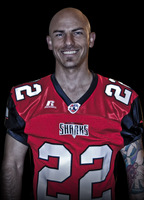 Active
Edinger, Paul
#22
Position:
Kicker
Date of Birth:
01/17/1978
Height:
5' 8"
Weight:
175 lbs
Pro Experience:
Chicago Bears, Minnesota Vikings, Chicago Rush
College:
Michigan State
Stats:
Rushing
Year
League
Club
FGA
FGM
XPM
XPA
2008
AFL
Chicago Rush
2
1
5
6
2010
AFL
Jacksonville Sharks
8
3
48
63
TOTAL
9
4
46
59
Biography:
PRO
Edinger started his professional career with the Chicago Bears after being selected in the sixth round of the NFL draft in 2000. Edinger went on to kick with the Bears for five-years until he was signed by the Minnesota Vikings in 2005. After a three-year break, Edinger entered his first AFL season after signing with the Chicago Rush. In January 2010, the Sharks signed Edinger as their starting kicker.

COLLEGE
Edinger attended Michigan State where he kicked for three-years. In his junior year, he was presented the Jim Adams Award as MSU's unsung hero. The All-American Football Foundation named Edinger first-team All-American in 1998.

PERSONAL
Edinger earned All-State and All-Polk County honors as a senior at Kathleen Senior High School in Lakeland, FL.