News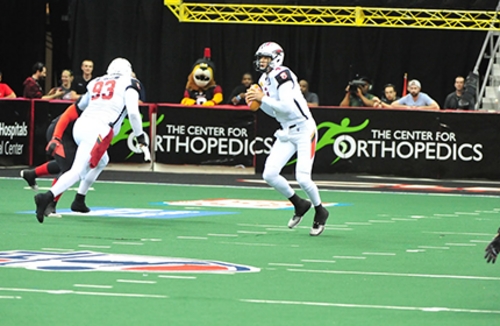 05/07/2016 9:26 PM
-
CLEVELAND – The Jacksonville Sharks held a 19-point lead in the third quarter of Saturday's game but failed to score on each of its final three offensive possessions, giving the Cleveland Gladiators an opportunity to mount a comeback. The Gladiators took advantage, scoring the game's last three touchdowns and handing the Sharks a 41-40 loss at Quicken Loans Arena.
Jacksonville (2-4) led by two scores at halftime and took a three-touchdown lead when Tommy Grady connected with Joe Hills for a 19-yard score on the opening drive of the second half. The Sharks then answered a Gladiator touchdown with one of their own, as Grady's six-yard pass to Tiger Jones put Jacksonville ahead by a 40-21 count with 2:45 left in the third quarter.
But from there, the tables turned, as the Sharks did not score another point for the remainder of the contest Following a 32-yard touchdown pass from Cleveland (2-4) quarterback Arvell Nelson to Collin Taylor, the Sharks moved into Gladiator territory, but after hauling in a pass over the middle, Hills lost the handle. Cleveland's Marvin Ross recovered the loose ball, and the Gladiators converted the stop into a score as Nelson connected with Quentin Sims from six yards out, cutting the Jacksonville lead to 40-35 with 8:53 remaining in the game.
On the ensuing drive, the Sharks once again moved into Gladiator territory. After a Derrick Ross run for no gain and an incomplete pass, Jacksonville was flagged for a total of five offensive penalties on four consecutive snaps. An offensive pass interference call against Hills and an offside whistle against Tiger Jones backed Jacksonville to a third and 30, and another offensive pass interference was declined, leading to a fourth-and-30 from the Sharks' own 19-yard line. On the fourth-down snap, Grady felt pressure and was not able to throw a pass anywhere near the line to gain, flipping the ball to an ineligible receiver. Cleveland declined penalties for both holding and illegal touching on the play, taking over at its own 24 with 43 seconds left.
On the second play of Cleveland's possession, Nelson went deep for Taylor, who beat his defender and made a one-handed catch to put the Gladiators in front. Cleveland's two-point conversion failed, but the Gladiators still held a 41-40 lead with 34 seconds remaining.
Needing a score of any kind to take the lead, Jacksonville moved down to the Cleveland 14 with 16 seconds and two timeouts. But back-to-back incomplete passes used the vast majority of the clock, and Jacksonville faced a third-and-10 with 3.3 seconds left. At that point, the Sharks sent out the field goal unit, and Marco Capozzoli's 30-yard attempt hit off the left upright. Cleveland's Larry Beavers secured the carom as time expired to end the game.
This marks the fourth consecutive game in which the Sharks held a fourth-quarter lead before later falling behind, and the second week in a row in which Jacksonville has squandered a two-score advantage in the second half. The Sharks now sit four games behind the undefeated Orlando Predators in the American Conference race.
Jacksonville was called for a total of eight accepted penalties on Saturday, but that does not include the three flags that were declined on the team's second-to-last possession. Defensive penalties proved costly as well, as in the third quarter a roughing the passer call wiped away would-be fourth-down incompletion and led to a Gladiator touchdown on the very next snap.
In the loss, Grady completed 26 of his 42 pass attempts for 241 yards and five touchdowns. Hills led Jacksonville with 14 catches for 131 yards and four scores, while Jones totaled seven grabs for 71 yards and a touchdown. Derrick Ross carried the ball nine times for 48 yards and a score. On defense, Greg Reid led Jacksonville with 5.5 total tackles while Dexter Jackson recorded two sacks and Khreem Smith added a sack of his own.
For Cleveland, Nelson completed 17 of his 30 pass attempts for 221 yards and three touchdowns and added 34 yards and three scores on the ground. Taylor hauled in six receptions for 101 yards and two touchdowns, while Sims totaled 61 yards and a touchdown on six receptions. Demarcus Robinson racked up 11.0 total tackles (8 solo), while Marvin Ross totaled 4.5 stops to go along with his fumble recovery.
Jacksonville now enters its first bye week of the 2016 season. The team will return to action on Saturday, May 21, as the team hosts the Portland Steel. Kickoff on Sea Best Field is set for 7:00 p.m.