News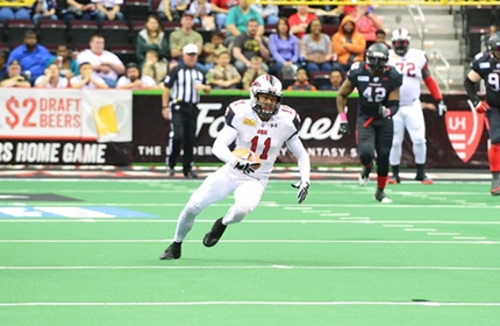 05/12/2016 6:31 AM
-
JACKSONVILLE – The Jacksonville Sharks are no strangers to having historically great players on their roster. Aaron Garcia, professional football's all-time leader in touchdown passes, was the first starting quarterback in franchise history and led the team to an ArenaBowl XXIV title. Today, fullback Derrick Ross is already the AFL's all-time leading rusher in just the sixth season of his career.
With that said, there is another player on the team who is on track to make a huge mark on Arena Football League history very soon.


For the past two seasons, Tiger Jones has formed one of the league's best one-two punches at receiver alongside teammate Joe Hills. But Jones' impact on arena football extends back beyond his time as a Shark.


Jones came to Jacksonville as the only receiver in AFL history to record three consecutive 2,000-yard seasons, as he accomplished that feat from 2011 through 2013 with the Dallas Vigilantes and Philadelphia Soul. He got back above the 2,000-mark in his first season with the Sharks, leading all AFL receivers with 2,807 yards during the 2015 campaign.


Racking up that many yards means that Jones gets his hands on the ball more often than not. It should come as no surprise that when it comes to catching the football, Jones is now approaching a significant milestone that very few have ever reached in the history of the AFL. Entering this week's action, Jones has amassed a total of 975 receptions in his career and is therefore only 25 catches away from joining the 1000-reception club.


Currently, Jones ranks No. 6 all-time in receptions, and among active players trails only Tampa Bay Storm receiver T.T. Toliver (1108). As a point of comparison, Toliver is a 13-year veteran while Jones is in the midst of his eighth season in the League. Jones has collected nearly the same number of catches as Toliver in a little more than half the time.


The all-time leader for receptions in the AFL is Damian Harrell, who racked up 1,164. This means that it's certainly possible for Jones to top the list by the end of his career, even if Toliver extends that mark before his playing days are done. Jones has averaged 138 receptions per year in his seven full seasons, putting him on track to pass Harrell toward the latter part of next season.


When asked about reaching the pinnacle of the sport, Jones said it isn't something that he focuses on.


"I wouldn't say it's a major goal," Jones said. "I just try to be better than the year before and let the stats fall into place."


Regardless of how he feels about the mark, becoming just the fifth receiver to reach 1,000 catches is a significant accomplishment. While it's unlikely he will get 25 catches in a single game – the franchise record is 18 – he'll hit 1,000 sooner rather than later.



About the Jacksonville Sharks

The Jacksonville Sharks are members of the Arena Football League (AFL). The ArenaBowl XXIV and four-time South Division Champions are presented by Sea Best Seafood and play all home games on Sea Best Field at the Jacksonville Veterans Memorial Arena. Season Tickets for the 2016 season are now available, two tickets as low as $99. To reserve your season tickets or for more information, please call (904) 621-0700. Follow the Sharks on facebook at facebook.com/jaxsharks and on Twitter @jaxsharks, as well as the Attack Dance Team at facebook.com/sharkattackdance and Chum at facebook.com/chumsharks.