News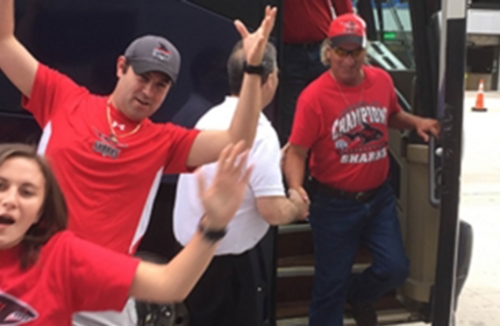 05/13/2016 3:20 PM
-
JACKSONVILLE – The Jacksonville Sharks announced today that the team will offer a fan bus to Orlando on Friday, May 27, providing two-way transportation for fans wishing to watch the Sharks face off against the division rival Orlando Predators at the Amway Center. Kickoff for the game is set for 7:30 p.m.

A seat on the bus will cost $110 for 2016 season ticket holders (Sharks season ticket holders utilizing their "experience" will receive the appropriate discount), and $120 for non-season ticket holders. This includes a seat on the bus, transportation to and from the game and a ticket at Amway Center in the lower bowl behind the Sharks' bench. En route, the Sharks will provide food from Firehouse Subs as well as soft drinks and water courtesy of Coca-Cola. Fans may bring their own small soft-sided cooler with beverages of their choice. Glass containers are prohibited.

The bus is set to depart at 4:00 p.m. on the day of the game, and will be leaving from the South end of the Avenues Mall parking lot next to Bucs Di Beppo, located at 10334 Southside Blvd. in Jacksonville. The bus will begin its return trip to Jacksonville shortly after the end of the game.

The Sharks encourage other fans who plan to attend the game to purchase seats in Sections 112 (or 111 or 113) and wear red to create a shiver of Shark fans behind the team's bench.

To purchase a seat on the bus, or for answers to any questions you may have, please contact Sharks Asst. GM Jack Benigno at (904) 900-2060 ext. 701, or by email at [email protected]. Those not riding the bus can purchase seats in Section 112, 111 or 113 by contacting the Predators directly at (904) 355-2200.