News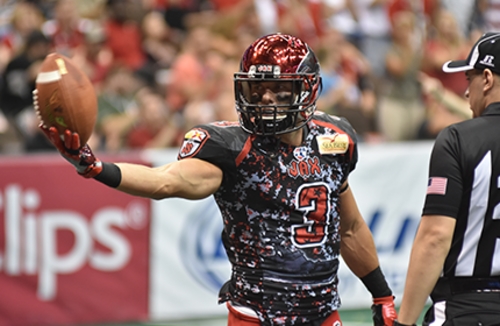 05/21/2016 8:57 PM
-
JACKSONVILLE – The Jacksonville Sharks used a combination of efficient offense and defensive stops to build a two-score halftime lead on Saturday night and never looked back, as Jacksonville defeated the Portland Steel by a 65-34 count in front of 10,208on Sea Best Field at the Jacksonville Veterans Memorial Arena.


Jacksonville (3-4) gained the early advantage by forcing a defensive stop on the Steel's second possession. As Portland (0-7) faced a fourth-and-7 from Jacksonville's 16-yard line, David Hyland dove in front of Tyrone Goard, breaking up the pass with an outstretched arm. The turnover on downs gave the Sharks the ball in good field position, and two plays later, Derrick Ross took a handoff 23 yards for a score to put the Sharks ahead, 14-6.


Ross was already the AFL's all-time leading rusher, and that play made the five-time All-Arena fullback the first player in League history to cross the 3,000-yard mark on the ground.


After the stop turned into a score, the two teams traded scores into the second quarter. Jacksonville led by a 26-20 count when the Sharks' defense came up with another big play. As Shane Austin scrambled out of the pocket, Jack linebacker Alvin Ray Jackson recognized that he was freed from his "box" and charged the Steel quarterback. A thunderous hit forced Austin's throw to pop high in the air, and LaRoche Jackson snagged the ball and returned the interception deep into Portland territory. The stop led to a quick score, as Tommy Grady hit London Crawford for a two-yard touchdown to give the Sharks a two-score lead, 33-20.


Jacksonville maintained that two-score advantage, taking a 40-27 lead into the locker room at halftime. Grady then piloted the offense down the field on the opening drive of the third quarter, eventually hitting Joe Hills for a three-yard touchdown to put the Sharks ahead by a three-score margin.


On Portland's next drive, another Shark defensive back made a heads-up play to force a stop. This time, Greg Reid stepped in front of a receiver, picking off a pass and returning it down to Portland's one-yard line. On the next snap, Ross took it in from a yard out to give the Sharks a 52-27 advantage.


From there, the theme of efficient offense and timely defense continued, as Jacksonville cruised to victory. The Sharks scored a touchdown on each of their 10 offensive possessions while Grady was under center, as the signal-caller tossed eight touchdown passes and handed off to Ross for two more. On the other side, the Jacksonville defense racked up four interceptions and two turnovers on downs. The result was a 31-point win that stands as the Sharks' largest margin of victory this season.


Grady ended the game with more touchdowns than incompletions, going 22-for-27 for 288 yards and eight scores without a pick. Hills led the way for Jacksonville's receiving corps with eight catches for 114 yards and four scores, while Crawford and Tiger Jones each hauled in a pair of touchdowns. Ross finished the game with five carries for 40 yards and two touchdowns.


On defense, LaRoche Jackson racked up 7.5 total tackles to go along with his two picks, while Reid (7.5 tackles) and David Hyland (3.5) each intercepted a pass as well. Alvin Ray Jackson made a total of five stops in addition to his part in LaRoche Jackson's first pick.


For Portland, Austin went 23-of-43 for 233 touchdowns and three touchdowns against four interception. Austin was also the Steel's leading rusher, totaling 11 yards and two scores on four attempts on the ground. Tom Gilson led all players with 13 receptions for 149 yards and added a touchdown, while Jabin Sambrano scored twice. Brandon Sesay recorded a sack for Portland's defense.


The Sharks will look to build on this victory next week, as the team travels to face the Orlando Predators on Friday, May 27. Kickoff from Amway Center in Orlando is set for 7:30 p.m.


Media Awards


Under Armour Offensive Player of the Game: Jacksonville WR Joe Hills


Riddell Defensive Player of the Game: Jacksonville DB LaRoche Jackson


J. Lewis Small Playmaker of the Game: Jacksonville QB Tommy Grady


Cutters Catch of the Game: Portland WR Jabin Sambrano's diving 19-yard touchdown catch in the second quarter


AFL Highlight of the Game – Jacksonville DB Greg Reid's interception return down to the one-yard line in the third quarter.