News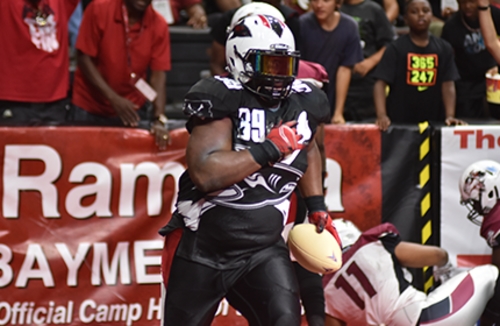 05/26/2016 9:44 AM
-
JACKSONVILLE - There are records in sports that are destined to never be challenged. Pete Rose's 4,256 hits. Byron Nelson's 11 consecutive PGA Tour victories. Richard Petty's 200 career NASCAR wins.

And 3,056 career rushing yards – and counting – by Jacksonville Sharks fullback Derrick Ross.

Ross became the only player in the Arena Football League surpass 3,000 rushing yards May 7 at Cleveland. The bruising runner from Tarleton (Tex.) State will continue to build on his legacy this Friday night when Jacksonville (3-4) travels to rival Orlando (7-1) with a single end goal – a championship ring.

"It means a lot to me [to be the all-time leading rusher] but personally, I want a ring," Ross said. "A lot of people want to be good, but I want to be a champion."

Ross is comfortably ahead of the league's second-leading rusher, Orlando's Bernard Morris, by 1,221 yards. More important, he has no plans of slowing down.

"It's an honor to be at the top of so many rushing categories, but the one thing I like the most is blocking," Ross said. "People don't know that. I like to block. I bust by rear to protect [quarterback] Tommy Grady to make sure he doesn't get hit. I get more satisfaction out of that because I really love that guy."

Ross currently leads the AFL in rushing yards (188), attempts (52) and touchdowns (12). But the number that's just as significant is the fact Grady's only been sacked twice in seven games.

For now, that's the only statistic that concerns the sixth-year pro.

"Derrick has improved dramatically since he's been here," head coach Les Moss said. "Last year we led the league in giving up the most sacks. Now we've only given up two. That's a credit to Derrick, the offensive line and the quarterback.

"You can tell he really wants to win a championship and he's willing to work hard to accomplish it."

Moss said Ross works hard in practice to improve his skills, and that commitment is why the Sharks lead the AFL in total yards (324.3 yards a game), passing yards (296.6) and rushing (27.7).

Also, the two sacks are the fewest given up by any team.

"When I came into this league, everyone said it's a passing league. They told me I couldn't be successful. What they didn't know is I'm a competitor. I go out to prove something every game to those who doubted me.

"At first, I hated to block. I didn't want to block. I never had to do that in college," he said. "You've got a guy coming at you full speed with a two- or three-yard head start. Now I love it, and I haven't given up a sack this year. I take great pride in that."

When Jacksonville lost to San Jose in the ArenaBowl a year ago, Ross instantly became determined to return with the same intensity – if not more – than his record-setting past because he desperately wants to win a championship ring. And he truly believes Jacksonville presents the greatest opportunity to accomplish that.

"No other quarterback in this league can take us to a championship other than Tommy Grady," Ross said. "That's why if they ask me to block 100 times, I'm good. And that's the truth."

Just like being part of a select group of athletes who've set records that won't be broken.



About the Jacksonville Sharks

The Jacksonville Sharks are members of the Arena Football League (AFL). The ArenaBowl XXIV and four-time South Division Champions are presented by Sea Best Seafood and play all home games on Sea Best Field at the Jacksonville Veterans Memorial Arena. Season Tickets for the 2016 season are now available, two tickets as low as $99. To reserve your season tickets or for more information, please call (904) 621-0700. Follow the Sharks on facebook at facebook.com/jaxsharks and on Twitter @jaxsharks, as well as the Attack Dance Team at facebook.com/sharkattackdance and Chum at facebook.com/chumsharks.