News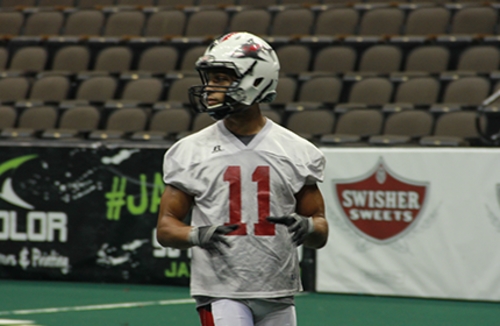 06/02/2016 2:07 PM
-
It was impossible to know in 2008 what would happen after Tiger Jones caught his first pass in the Arena Football League.
But the wide receiver offered an impressive clue.

Eight years later, Jones still is making catches. In fact, four more and he will become just the fifth player in league history to have 1,000 receptions in a career.

"My rookie season, I didn't even know if I was going to play," Jones said. "Troy Bergeron had spasms so they didn't know if he would play. When he couldn't, I was up.

"I remember my first catch was for 20 yards across the middle on a fourth-and-10. Chris Greisen hit me just as I hit the wall.

"A lot's happened since."

Jones can join the exclusive 1,000-catch club Saturday night when the Jacksonville Sharks host Philadelphia at 7 p.m. at the Jacksonville Veterans Memorial Arena. With eight catches, the Sharks receiver can tie Chris Jackson for fourth on the league's all-time list.

Jones has played seven seasons indoors. Like most, he once dreamed of playing in the NFL. But once he turned 30, he was dedicated to the AFL.

"I knew my NFL window as closed," he said. "It's ironic, because that's when I decided I was going to try to be the greatest receiver in AFL history."

It's a mission that remains on track.

Damian Harrell is the all-time leader with 1,164 catches. Tampa Bay's T.T. Toliver is second at 1,133, followed by Lawrence Samuels at 1,030 and Jackson at 1,004. Jones and Toliver are the only active players among the top-five.

Jones has 59 receptions for 727 yards and 10 TDs this year, and 996 career catches for 13,847 yards – which is third in AFL history – and 278 touchdowns.

His first nine catches came eight years ago during his first start for the Georgia Force. He wound up with 131 yards and six TDs in a 70-47 victory at the Utah Blaze.

Not only did Jones move into the starting lineup, he went on to be named to the AFL's All-Rookie team later that season.

Quarterback Tommy Grady said Jacksonville won't need to do anything special against the Soul to get Jones to the 1,000-catch level.

"He's going to get to 1,000 eventually, so we'll try to get him the ball if he's open," Grady said. "We're not worried. I don't think he's had less than four catches in a long time."

Grady said Jones is one of the most-respected players in the Sharks locker room.

"He's like another quarterback because he reads things so well," he said. "He does a lot for this team. When he talks, everyone listens. He is well-respected. Everyone knows he works hard every day."

Jones has five or more catches in each of his last seven games, including seven receptions for 79 yards in last Saturday's 59-56 victory at Orlando – a game where Joe Hills set the Sharks' franchise record with eight touchdown catches.

"I've learned a lot from Tiger over the years. He's a hard worker. He's very vocal. It doesn't look like he says much, but he says a lot," Hills said.

"The work he puts in, the film work. Tiger is like my big brother. I call and ask him random questions and he always give me straight-forward answers. He's a genuine guy who loves the game of football and everything that comes with it.

"He's a first-ballot Hall of Famer. No doubt."

Now 34, Jones has no plans of slowing down.

"I'm healthy and playing at a high level, I'm going to play," he said. "I try to get better every off-season. I haven't thought when might be my last year. I'm still having fun." And moving up in the record books.

About the Jacksonville Sharks

The Jacksonville Sharks are members of the Arena Football League (AFL). The ArenaBowl XXIV and four-time South Division Champions are presented by Sea Best Seafood and play all home games on Sea Best Field at the Jacksonville Veterans Memorial Arena. Season Tickets for the 2016 season are now available, two tickets as low as $99. To reserve your season tickets or for more information, please call (904) 621-0700. Follow the Sharks on facebook at facebook.com/jaxsharks and on Twitter @jaxsharks, as well as the Attack Dance Team at facebook.com/sharkattackdance and Chum at facebook.com/chumsharks.