News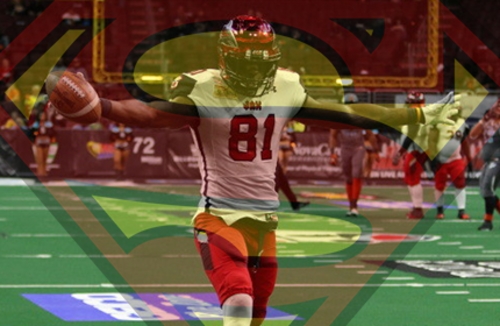 06/03/2016 11:07 AM
-
JACKSONVILLE - The Sharks return to Jacksonville Saturday, June 4, as we host the Philadelphia Soul for Superhero Night. Kickoff at Sea Best Field in the Jacksonville Veterans Memorial Arena is set for 7:00 p.m.
The Sharks hope to continue their momentum after their big win last week in Orlando. Jacksonville is 4-4 on the season and this game will be crucial to close the gap on the Conference leading Philadelphia Soul.
Whether you are a longtime Season Ticket Holder or about to head to your first Sharks game, please see below for a rundown of what to expect at the Shark Tank Saturday night!
Superhero Night
Batman, Wonder Woman and Iron Man will be in attendance as we put on Superhero Night. Come see the Superheroes at Sharkfest starting at 5pm and then we will move into the main lobby from 5:30 to 6:45. Make sure to come early and take a photo with Wonder Woman and her invisible plane! Come dressed up as your favorite Superhero (or villain) as we battle for home field supremacy.
Education Appreciation
For this week's game we will recognize all teachers, administrators and school employees in light of education appreciation. This game's ticket promotion includes a buy one get one free ticket deal for school employees.
School's out for Summer
In honor of having no school for the next three months, the Sharks are offering two free child's tickets with the purchase of one paying adult. This offer cannot be combined with any other offer.
Suite/Duval Street Entrance
This entrance will be open for ALL Sharks season tickets holders for the remainder of the season.
New Noise Policy
We are bringing the rowdiness back to the Tank! The Sharks have recently revised their noise policy which now allows cowbells (8" in height 6" in width max) and Sharks Horns for the remainder of the season. Don't like the noise? There will also be new noise maker free sections. To request information on these new sections, call the Sharks Ticket Office 904-621-0700 or contact [email protected]. We will continue with the policy of fans NOT being able to bring large buckets or aerosol air horns into the arena.
"Bring a Friend" and "Early Bird" Ticket Voucher
This is the last chance to turn one of your friend's into a Sharks' fan for FREE. This weeks' game vs the Soul will be the last game that you will be able to exchange your vouchers for the 2016 season. Use 'em or lose 'em!
Shark Nation Membership Experiences
Don't miss out on your Shark Nation Membership Experience! Depending on your Shark Nation Membership level, you may have chosen Chalk Talk with Coach Moss, the Player Intro Experience, the On-Field Experience, a discounted away game bus trip or the Sharks Locker Room Tour. Whatever the Experience you have chosen, be on the lookout for your instructions via email on how to attend your experience. Didn't get the email to sign-up for your experiences? Email [email protected]
SharkFest
SharkFest, our pre-game block party held outside the arena, is back and better than ever this season! SharkFest begins at 5:00 p.m. tonight. The Boy Scouts will bring a rock climbing wall for fans of all ages to show us their Superhero abilities!
Many of our corporate partners will be set up at SharkFest as well, so be sure to stop by their displays and check out everything they have to offer!
Halftime
At halftime of game, the frisbee dog entertainment group, Disc-Connected K9'S, will take the field as they perform tons of freestyle moves and tricks to choreographed music.
Fling-A-Football
How's your aim? Presented by our friends at Jaguar Power Sports, our halftime Fling-A-Football promotion gives you a chance to win a prize package that includes $200 of Sharks Bucks and a Sharks customized jersey! At just $1 per throw (and 6 for $5), you might as well give it a shot! Be sure to have your mini-footballs ready when halftime rolls around!
Fling-A-Footballs are available for purchase at the Jaguar Power Sports display at SharkFest, as well as inside the arena on the main concourse until the middle of the second quarter.
Arena Club/Reef and Cove Suites Buffet Menu
Build your own ultimate fajitas:
Soft flour tortillas filled with grilled steak or chicken and onions and peppers
Mexican rice
Mixed green tossed salad with cilantro lime vinaigrette and ranch dressing.
Sea Best Concession Special
The Sea Best Seafood stand, located in the main concourse behind Section 102, will offer the following special:
$8 grilled Mahi Fish Tacos – Mahi seasoned and grilled to perfection. Served on soft flour tortilla topped with lettuce and tomato, finished with chipotle sauce.
New Ice Cream
Mr. Softee is now available at the Food Court. Old school ice cream and shakes in assorted flavor.
Drink Specials
The Sharknado will be available at bars located on the main concourse. A 21 oz. mixture of tequila and rum with hurricane mix, garnished with a Swedish fish and served in a football shaped mason jar for $20.00.
16 oz. Bud light drafts for $5 at the Rita Cart in the food court and craft corner (Budweiser Cart) and the Arena Club Bar.
Doors Open
On Saturday, the doors open at 5:30 p.m. for season ticket holders and 6:00 p.m. for the general public. The game kicks off at 7:00 p.m.
About the Jacksonville Sharks
The Jacksonville Sharks are members of the Arena Football League (AFL). The ArenaBowl XXIV and four-time South Division Champions are presented by Sea Best Seafood and play all home games on Sea Best Field at the Jacksonville Veterans Memorial Arena. Season Tickets for the 2016 season are now available, two tickets as low as $99. To reserve your season tickets or for more information, please call (904) 621-0700. Follow the Sharks on facebook at facebook.com/jaxsharks and on Twitter @jaxsharks, as well as the Attack Dance Team at facebook.com/sharkattackdance and Chum at facebook.com/chumsharks