News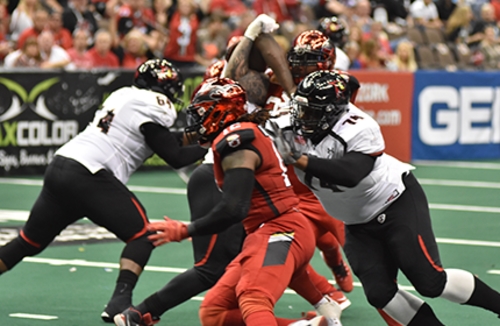 06/17/2016 5:13 PM
-
JACKSONVILLE - The Jacksonville Sharks and Orlando Predators will take a moment before their intrastate rivalry game Saturday night to remember the 49 people killed during a terrorist attack last Sunday in an Orlando nightclub.
Together, the teams will show unity against the horrific act, and they will invite everyone at the Jacksonville Veterans Memorial Arena – and a national television audience on CBS Sports Network – to be part of respectful tributes to the lives torn by the tragedy.
And then, there will be football.
"This is a step in the healing process," Sharks defensive back Micheaux Robinson said. "We will pay our respects, but we still have a ballgame to play."
"We have to prove you can't let anybody steal your glory, your happiness," fullback Derrick Ross said.
While Jacksonville and Orlando will be mindful of the shooting, both know the game will provide some respite and prove again the human spirit never will be defeated.
"We will band together and we will keep fighting," wide receiver Joe Hills said. "Football goes a long way in the community."
Sharks head coach Les Moss talked with the team about the tragedy on Monday. The focus then shifted to football.
"It's a game we need to win," Moss said. "There is a lot of football ahead of us, and we are trying to put ourselves in position to play some home games in the playoffs. We know Orlando will play hard. We need to do the same thing."
Jacksonville (5-5) will try to get above the .500 mark for the first time this season. The Predators (9-2) are trying to close in on homefield advantage throughout the playoffs.
Kickoff is at 7 p.m.
For that reason, Hills is convinced the game will be another chapter in the long-standing history of hard hits and big plays between the teams.
"This is what we do. If you can't get up for a game like this, there's something wrong," he said. "We'll shake hands, then they will try to beat us as much as we try to beat them.
"It's the right thing to do. All we know is we have to match everything they're bringing."
Jacksonville will be trying to build off last Saturday's 67-34 victory at Tampa Bay and a 59-56 road victory May 27 against the Predators.
"We're trying to get on a roll," Ross said. "We're trying to make something happen."
Orlando won at Jacksonville, 63-56, in Week 3.
"When the ball's kicked off, they'll have their guys locked in and prepared," Robinson said. "We need to get by them to achieve what we want. This is important for the bigger picture."
With a 2-0 record against Tampa Bay and 1-1 against Orlando, the Sharks could win the Florida state championship with a victory Saturday. It also would give Jacksonville the edge in any tiebreaker scenario against their Sunshine State rivals.
"I hope they bring it," Ross said of Orlando. "We all need a great rivalry game like this right now."
And pray the healing continues.
About the Jacksonville Sharks
The Jacksonville Sharks are members of the Arena Football League (AFL). The ArenaBowl XXIV and four-time South Division Champions are presented by Sea Best Seafood and play all home games on Sea Best Field at the Jacksonville Veterans Memorial Arena. Single Game Tickets for the 2016 season are now available, as low as $13. To reserve your season tickets or for more information, please call (904) 621-0700. Follow the Sharks on facebook at facebook.com/jaxsharks and on Twitter @jaxsharks, as well as the Attack Dance Team at facebook.com/sharkattackdance and Chum at facebook.com/chumsharks.
-SHARKS-