News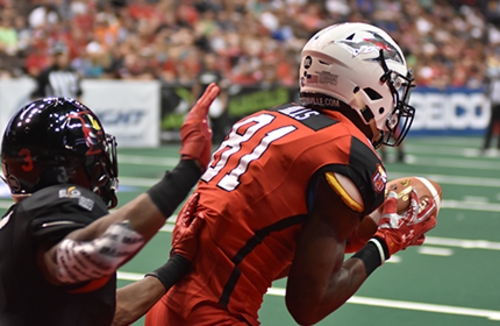 06/24/2016 10:06 AM
-
Les Moss' day starts at 5:30 a.m. and ends at 10 p.m. In between, there is film study, team meetings and a 90-minute practice session.
And a never-ending search for players.
The bulk of his day is reviewing player highlights, and talking to coaches and agents to find players to improve the Jacksonville Sharks roster. A roster on any professional-level team always is evolving. But in the Arena Football League, changes happen on a daily basis. "If you're not looking to improve, you're getting worse," Moss said. The Sharks got the league's attention Monday when it placed Tiger Jones, who's one of only five players with at least 1,000 career receptions, on recallable assignment. It was one of six transactions made by the team that afternoon.
On Wednesday Moss shook things up again by bringing back Jones and activating London Crawford from injured reserve. Jacksonville (5-6), which hosts Cleveland (6-6) Saturday night, will have some new faces in the lineup early in the game, Moss said, as the Sharks try to find consistency for a second-half surge. Kickoff at the Jacksonville Veterans Memorial Arena is at 7 p.m. "There isn't a day when I'm not looking for players," Moss said. "You want the best people on the field at all times. It's up to the coaches to tell these players what to do and put them in position to do that. It's up to the players to do that."
The Sharks clearly have a lot of available talent. Rosters in the National Football League are full and the Canadian Football League just made its final cuts. Added with the championship games from other indoor leagues, the market is flooded with capable players. More important, they're eager. "At this time of year, if you're not on a roster you can't call yourself a football player," Moss said. "There's a lot of competition out there. We typically bring in five or six guys a week and we take a look at them. They really push hard because they want to play. That makes the guys already on your roster have to push hard, too. A year ago Greg Reid was invited to camp after Week 6. He quickly made an impact with nine interceptions in the final 12 games to be named First Team on the All-Arena team.
Later in the season, former Jacksonville University wide receiver Andrew Robustelli auditioned for a spot on the roster. "We liked what we saw from him, and I told him I didn't have a spot at the time for him, but if he was still available I would sign him in the off-season," Moss said. "We got him and he's still here."Robustelli's tenacity prompted Moss to keep him on a roster already filled with all-star-level receivers like Jones, Joe Hills, Reggie Gray and Crawford.
"I try not to think about it too much with all the receivers," said Robustelli, whose grandfather, defensive end Andy Robustelli is in the New York Giants Hall of Fame. "I go 100 percent on every play. I got out on every play and play like it's the last play of my career." Not only does Jacksonville want to continually upgrade its roster, it desperately needs to find footing for the final seven games in the regular season. The Sharks hope to land on a lineup combination quickly to gain momentum for the upcoming playoffs.
"You have to earn your spot," Moss said. "That's never changed. There aren't a lot of players in this league where that doesn't apply."
Which will keep Moss in a never-ending search for players.
About the Jacksonville Sharks
The Jacksonville Sharks are members of the Arena Football League (AFL). The ArenaBowl XXIV and four-time South Division Champions are presented by Sea Best Seafood and play all home games on Sea Best Field at the Jacksonville Veterans Memorial Arena. Season Tickets for the 2016 season are now available, two tickets as low as $99. To reserve your season tickets or for more information, please call (904) 621-0700. Follow the Sharks on facebook at facebook.com/jaxsharks and on Twitter @jaxsharks, as well as the Attack Dance Team at facebook.com/sharkattackdance and Chum at facebook.com/chumsharks.