News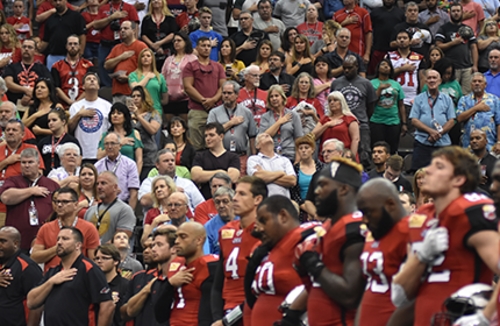 06/24/2016 10:18 AM
-
JACKSONVILLE - The Sharks are home for a second week in a row as we host the Cleveland Gladiators on June 25 for Star Wars Night. Kickoff at Sea Best Field in the Jacksonville Veterans Memorial Arena is set for 7:03 p.m in what is turning into a game with home field playoff implications.



The Shark's look to bounce back from last week's loss in what will be the second and final meeting with the Gladiators for the 2016 regular season. Jacksonville (5-6) looks to even the series with a win on Saturday night. Cleveland won 41-40 in the first meeting at Quicken Loans Arena after scoring the last three touchdowns of the game.



Whether you are a longtime Season Ticket Holder or about to head to your first Sharks game, please see below for a rundown of what to expect at the Shark Tank Saturday night.



Star Wars Night



A popular theme returns as we celebrate the iconic movie franchise. Whether you fight with the Rebellion or stand with the First Order, fans can take their pictures with their favorite Star Wars characters in front of the main entrance of the arena during SharkFest and on the main concourse throughout the game. The first 1,000 kids in attendance (14 and under) will receive their very own Lightsaber.



Jersey Auction



The Sharks will hold a jersey auction on the field during the post-game autograph session. Fans will have the opportunity to bid on the Star Wars themed jerseys. Proceeds from the auction will be donated to VetTix.



Family 4 Pack

This week's deal and promotions include Family 4 Pack offer that includes four hot dogs, four bags of chips, four cokes and four tickets for $80. To take advantage of this deal visit, jaxsharkstickets.com

Attack Dance Team's 7th Annual Swimsuit Calendar



The Attack's calendars are now here and will be sold throughout the game for only $10.



Suite/Duval Street Entrance



This entrance will be open for ALL Sharks season tickets holders for the remainder of the season.



New Noise Policy



We are bringing the rowdiness back to the Tank! The Sharks have recently revised their noise policy which now allows cowbells (8" in height 6" in width max) and Sharks Horns for the remainder of the season. Don't like the noise? There will also be new noise maker free sections. To request information on these new sections, call the Sharks Ticket Office 904-621-0700 or contact [email protected] We will continue with the policy of fans NOT being able to bring large buckets or aerosol air horns into the arena.



Halftime



Halftime of Saturday's Game will feature a spectacular Jedi performance from the Jedi Academy of North Florida, as well as a separate performance of high-flying competitive cheerleaders from First Class Athletics.



SharkFest



SharkFest, our pre-game block party held outside the arena, is back and better than ever this season! SharkFest begins at 5:00 p.m. tonight. Many of our corporate partners will be set up at SharkFest as well, so be sure to stop by their displays and check out everything they have to offer!



Shark Nation Membership Experiences



Don't miss out on your Shark Nation Membership Experience! Depending on your Shark Nation Membership level, you may have chosen Chalk Talk with Coach Moss, the Player Intro Experience, the On-Field Experience, a discounted away game bus trip or the Sharks Locker Room Tour. Whatever the Experience you have chosen, be on the lookout for your instructions via email on how to attend your experience. Didn't get the email to sign-up for your experiences? Email [email protected]



Fling-A-Football



How's your aim? Presented by our friends at Jaguar Power Sports, our halftime Fling-A-Football promotion gives you a chance to win a prize package that includes $200 of Sharks Bucks and a Sharks customized jersey! At just $1 per throw (and 6 for $5), you might as well give it a shot! Be sure to have your mini-footballs ready when halftime rolls around!



Fling-A-Footballs are available for purchase at the Jaguar Power Sports display at SharkFest, as well as inside the arena on the main concourse until the middle of the second quarter.



Souvenir Drink Cups and Popcorn Buckets



Fans can bring their 2016 Sharks' souvenir cups and souvenir popcorn buckets to the games. For only $3 each, you can enjoy a refill on either popcorn or soft drinks at the concession stands.



Arena Club Buffet Menu



Build your own ultimate fajitas:

Soft flour tortillas filled with grilled steak or chicken and onions and peppers

Salsa and sour cream

Mexican rice

Mixed green tossed salad with cilantro lime vinaigrette and ranch dressing.



Sea Best Concession Special



The Sea Best Seafood stand, located in the main concourse behind Section 102, will offer the following special:



Colossal clam and popcorn shrimp basket - Clum up the Gladiators with this delicious Sea Best special. A hearty helping of perfectly fried Sea Best clam strips and popcorn shrimp served over french fries with cocktail sauce on the side. Enjoy this special while supplies last for only $9 (normally $12).



Drink Specials



The Sharknado will be available at bars located on the main concourse. A 21 oz. mixture of El Jimador tequila and Bacardi rum with hurricane mix, Sprite and a splash of blue curacao, garnished with a Swedish fish and served in a souvenir football shaped mason jar for $20.00.



Concession Specials



$5, 16 oz. draft beer at the EverBank Arena Club and Sections 102 bar (food court).



Doors Open



On Saturday, the doors open at 5:30 p.m. for season ticket holders and 6:00 p.m. for the general public (if raining we will allow everyone in at 5:30 p.m.). The game kicks off at 7:00 p.m.



About the Jacksonville Sharks



The Jacksonville Sharks are members of the Arena Football League (AFL). The ArenaBowl XXIV and four-time South Division Champions are presented by Sea Best Seafood and play all home games on Sea Best Field at the Jacksonville Veterans Memorial Arena. Single Game Tickets for the 2016 season are now available, as low as $13. To reserve your season tickets or for more information, please call (904) 621-0700. Follow the Sharks on facebook at facebook.com/jaxsharks and on Twitter @jaxsharks, as well as the Attack Dance Team at facebook.com/sharkattackdance and Chum at facebook.com/chumsharks.