News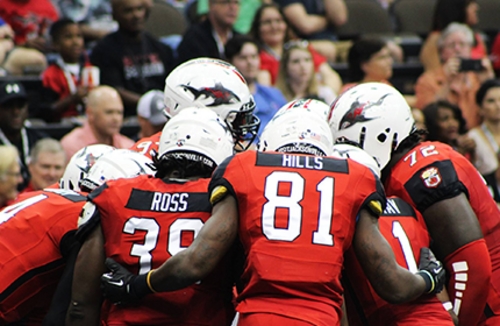 07/07/2016 4:24 PM
-
JACKSONVILLE – Mo Ruffins had his bags packed and he was ready to get out of town following back-to-back home losses, including a stunning 48-47 loss to Cleveland two weeks ago when the Gladiators scored the winning touchdown with 47 seconds to play.
During last week's open date, Ruffins travelled to Europe. Fullback Derrick Ross went alligator watching in the Everglades, and he swam with the dolphins in South Florida.
Like everyone else with the Jacksonville Sharks, they desperately needed a physical and emotional break from a long and often frustrating season.
More than anything else, they needed to hit the re-set button.
"I had to get away from football," Ruffins said. "I had to get my mind clear."
The bye-week was a time for everyone to reflect and re-dedicate themselves for a late-season push before of the AFL playoffs. With four regular season games remaining, including a road trip to Arizona Saturday night (9:30 p.m., CBS Sports Network), Ruffins said the Sharks (5-7) now need to focus solely on creating momentum for the playoffs. "You don't want to limp into the playoffs," the offensive lineman said. "We've been in every game. We're just not finishing. We've got to switch that. We've got to get going and we're running out of time."
It the team's seven losses, Jacksonville has been out-scored 143-56 in the fourth quarter. The Sharks have been shut out twice and have scored just one TD in the other two games in their last four losses.
More alarming, Jacksonville has given up the lead four times this season in the final 47 seconds "What's happened in the last 12 games doesn't matter now," Ross said. "We need to worry about the next four. We have to click at the right time. I hate to bring up last year, but that's what we did. We started 1-5 and we clicked at the end of the year and got all the way to the ArenaBowl. We need to do that again."All eight teams in the league got the Independence Day weekend off. Few, however, needed a break more than the Sharks. "We have a couple guys who were beat up," Ruffins said. "I think we all needed to step back. There's been so much frustration because we of where we are and where we should be. "Everybody came back ready and in a good frame of mind."
Ross spent time in the swamp. He also spent lazy afternoons on a boat in the ocean.
"That's exactly what I needed," Ross said. "I needed to get my mind off football. Now that I'm back, I think everyone is focused on finishing strong. I think we all know everybody needs to be accountable. "The first 12 games haven't gone like we expected, but we can turn some of that around in the last four games [before the playoffs]."
Arizona (12-3) is a formidable challenge, especially being at home in the Talking Stick Resort Arena. The Rattlers already have locked up a home game in the first round of the playoffs, and part of their success included a 75-68 overtime win at Jacksonville on April 23. In that game, Arizona scored with 23 seconds remaining regulation, and then it eventually won in overtime.
"None of that matters now," Ross said. "All that matters is Saturday's game. We have a four-game season ahead of us. It's time to get going."
About the Jacksonville Sharks
The Jacksonville Sharks are members of the Arena Football League (AFL). The ArenaBowl XXIV and four-time South Division Champions are presented by Sea Best Seafood and play all home games on Sea Best Field at the Jacksonville Veterans Memorial Arena. Season Tickets for the 2016 season are now available, two tickets as low as $99. To reserve your season tickets or for more information, please call (904) 621-0700. Follow the Sharks on Facebook at facebook.com/jaxsharks and on Twitter @jaxsharks, as well as the Attack Dance Team at facebook.com/sharkattackdance and Chum at facebook.com/chumsharks.