News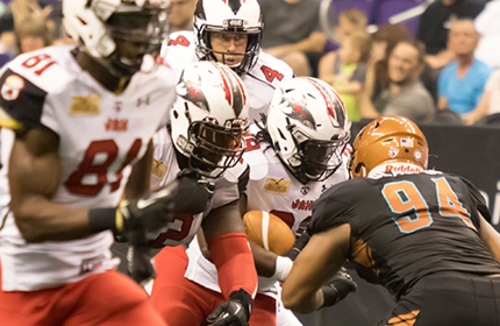 07/14/2016 7:30 PM
-
JACKSONVILLE - While nobody with the Jacksonville Sharks was satisfied by a 69-67 loss at Arizona last week, the team left the desert with a sense of accomplishment that's been missing most of the season.
"Nobody believes in moral victories," defensive back Greg Reid said, "but something clicked at Arizona. We finally put things together. We still don't like losing, but we all feel good about what happened there. I know we're excited about these last three games."
Although Jacksonville (5-8) still will take a three-game losing streak on the road to Portland on Saturday night, the Sharks believe they've created some momentum for the rest of the regular season.
Kick off at the Moda Center is at 10 p.m. ET.
Jacksonville found a way to fight back after it was pushed to the brink by the league's top-scoring offense at Arizona, the No. 1 team in the National Conference.
Reid and fellow defensive back LaRoche Jackson were knocked out of the game, while jack linebacker Alvin Ray Jackson wasn't at full speed. Reid and Jackson were replaced by wide receivers Andrew Robustelli and Reggie Gray, while back-up quarterback Sean Brackett filled in at jack linebacker.
The difference, however, wound up being two missed point after touchdown kicks and an incomplete two-point conversion pass with nine seconds remaining.
"We took one of the best teams in the league to final seconds, and we did it with two wide receivers playing in the [defensive] secondary and a quarterback playing jack linebacker," center Ray McNeil said. "A lot of teams would have packed it in, especially a team that's frustrated by the way the season's gone. But we didn't. We stepped up. I think we're finally clicking."
And it couldn't come at a better time. With Saturday's game at Portland, followed by home games at the Jacksonville Veterans Memorial Arena against the L.A. KISS on July 23 and the Tampa Bay Storm on July 31, the Sharks still are in contention to finish as the fourth overall seed for the upcoming playoffs. At No. 4, Jacksonville would be in line to host a first-round game.
"Everything is still in front of us," Reid said. "We still have a lot to play for."
The Sharks are 1.5-games behind Cleveland for the fourth seed and one game behind the KISS. Cleveland has the daunting task of finish the regular season on the road against L.A. and Arizona, while the KISS also have a game against Portland to play.
The Portland Steel (1-12) clearly have struggled more than any other team in the league. Even with a three-game losing streak, Jacksonville must guard against any letdowns if it wants to remain in contention for the fourth-seed.
But on paper, the Sharks have a decided edge – especially since they have the No. 1-ranked quarterback, running back and wide receiver in the league.
Tommy Grady has an AFL-best 3,768 passing yards; fullback Derrick Ross has 302 rushing yards; and, wide receiver Joe Hills has 1,763 receiving yards and a league-best 48 touchdowns.
"It's still one game at a time," McNeil said. "We have momentum now, and we have to make sure we keep it going."
About the Jacksonville Sharks
The Jacksonville Sharks are members of the Arena Football League (AFL). The ArenaBowl XXIV and four-time South Division Champions are presented by Sea Best Seafood and play all home games on Sea Best Field at the Jacksonville Veterans Memorial Arena. Season Tickets for the 2016 season are now available, two tickets as low as $99. To reserve your season tickets or for more information, please call (904) 621-0700. Follow the Sharks on facebook at facebook.com/jaxsharks and on Twitter @jaxsharks, as well as the Attack Dance Team at facebook.com/sharkattackdance and Chum at facebook.com/chumsharks.