News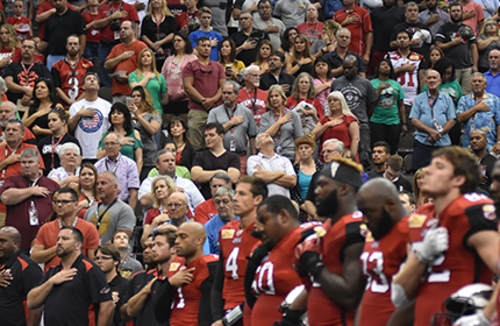 07/29/2016 1:17 PM
-
JACKSONVILLE - The Sharks are ready to host the Tampa Bay Storm on July 30 for 70's Disco Night. Kickoff at Sea Best Field in the Jacksonville Veterans Memorial Arena is set for 7:00 p.m.
Following a thrilling victory over the LA KISS last Saturday night, all eyes will be on the Sharks (6-9) as they close out the regular season against the Tampa Bay Storm (2-13) and prepare for the playoffs either @ Orlando on Saturday, August 6 or @ Philadelphia on Sunday, August 7. In their first matchup during week 5 at Amalie Arena in Tampa, the Sharks won 33-27 and again in Tampa in week 11 when the Sharks celebrated a 67-34 triumph over the Storm.
Whether you're a longtime Season Ticket Holder or about to head to your first Sharks game, please see below for a rundown of what to expect at the Shark Tank tonight.
70's/Disco Night
We are bringing back bell bottoms, paisley print, and platform shoes, so come celebrate with us as we "Do the Hustle" and head to "Funkytown"!
Presenting Sponsor and Adult Giveaway
The presenting sponsor for tonight's game is the Duval County Supervisor of Elections. Bring your Voter registration card and receive a free Limited Edition Sharks Voter Appreciation Night t-shirt (18 and up) for the first 800 fans. ONLY fans with voter registration cards can receive the free tee shirt (no exceptions).
Kids Giveaway
The first 1,000 kids (12 & under) will receive a free Jacksonville Sharks Tin Lunch Box. You had one in the 70's and now your kids can have one too!
Affordable Family 4 Packs
The Sharks are all about NOT breaking your bank and this deal is even cheaper than going to the movies! The Family 4 Pack offer includes four hot dogs, four bags of chips, four Cokes and four tickets for $80 (reg. $146 offer). To take advantage of this deal, visit jaxsharkstickets.com or call 621-0700.
2017 Shark Nation Memberships Now Available
2017 Shark Nation Memberships are on sale now. Become a Member and enjoy exclusive membership gifts and experiences, season tickets and free parking (all subject to membership levels). Call 904.621.0700 to reserve your membership for another action-packed year of Sharks football.
Attack Dance Team's 7th Annual Swimsuit Calendar
The Attack's calendars are now here and will be sold throughout the game for only $10.
Suite/Duval Street Entrance
This entrance will be open for ALL Sharks season tickets holders for the remainder of the season.
New Noise Policy
We are bringing the rowdiness back to the Tank! The Sharks have recently revised their noise policy which now allows cowbells (8" in height, 6" in width max) and Sharks Horns for the remainder of the season. Don't like the noise? There will also be new noise maker free sections. To request information on these new sections, call the Sharks Tickets Office at 904-621-0700 or contact [email protected]. We will continue with the policy of fans NOT being able to bring large buckets or aerosol air horns into the arena.
Halftime
At halftime, we will play a 1970's favorite, Let's Make a Deal with Operating Manager Jeff Bouchy as two lucky fans will have a chance to win $500 each. So, have some crazy paraphernalia on you as you may be asked to show him a paper clip, rubber band or a hard boiled egg! Also, boogie with the Attack Dance Team as they perform a 70's themed dance to get you on your feet.
SharkFest
SharkFest, our pre-game block party held outside the arena, is back and better than ever this season! SharkFest begins at 5:00 p.m. Saturday night! Many of our corporate partners will be set up at SharkFest as well so be sure to stop by their displays and check out everything they have to offer!
Shark Nation Membership Experiences
Don't miss out on your Shark Nation Membership Experience! Depending on your Shark Nation Membership level, you may have chosen Chalk Talk with Coach Moss, the Player Intro Experience, the On-Field Experience, a discounted away game bus trip or the Sharks Locker Room Tour. Whatever the Experience you have chosen, be on the lookout for your instructions via email on how to attend your experience. Didn't get the email to sign-up for your experiences? Email [email protected]
Fling-A-Football
How's your aim? Presented by our friends at Jaguar Power Sports, our halftime Fling-A-Football promotion gives you a chance to win a prize package that includes $200 of Sharks Bucks and a Sharks customized jersey! At just $1 per throw (and 6 for $5), you might as well give it a shot! Be sure to have your mini-footballs ready when halftime rolls around.
Fling-A-Footballs are available for purchase at the Jaguar Power Sports display at SharkFest, as well as inside the arena on the main concourse until the middle of the second quarter.
Souvenir Drink Cups and Popcorn Buckets
Fans can bring their 2016 Sharks' souvenir cups and souvenir popcorn buckets to the games. For only $3 each, you can enjoy a refill on either popcorn or soft drinks at the concession stands.
Arena Club Buffet Menu
Chef Carved Garlic Roast Beef with Horseradish Cream, Dijon Mustard, and Silver Dollar Rolls
Garden Wild Rice

Chef's Choice Seasonal Vegetable

Mixed Greens Tossed Salad with Ranch and Golden Italian Dressings
Sea Best Concession Special
The Sea Best Seafood stand, located in the main concourse in the food court by Section 104, will offer the following special:
$9 "Mahi Fish tacos" This delicious special is back for the final home game of the season.
Enjoy this special while supply lasts, normally served for $12.
Drink Specials
The Sharknado!! Served in a souvenir football cup this cocktail concoction combines a shot of Bacardi rum and El Jimador tequila with hurricane mix, Sprite and a splash of blue curacao for a whirlwind of tasty flavors. Look closely for the Swedish fish swimming through the swirling currents! All for only $20.
Concession Specials
All draft beers will be available for $5 (served in a 16 oz cup). This Draft Special will be Located in section 104, 111 and the arena club.
Doors Open
On Saturday, the doors open at 5:30 p.m. for season ticket holders and 6:00 p.m. for the general public (if raining, we will allow everyone in at 5:30 p.m.) The game kicks off at 7 p.m.
About the Jacksonville Sharks
The Jacksonville Sharks are members of the Arena Football League (AFL). The ArenaBowl XXIV and four-time South Division Champions are presented by Sea Best Seafood and play all home games on Sea Best Field at the Jacksonville Veterans Memorial Arena. Season Tickets for the 2017 season are now available, two tickets as low as $99. To reserve your season tickets or for more information, please call (904) 621-0700. Follow the Sharks on facebook at facebook.com/jaxsharks and on Twitter @jaxsharks, as well as the Attack Dance Team at facebook.com/sharkattackdance and Chum at facebook.com/chumsharks.