News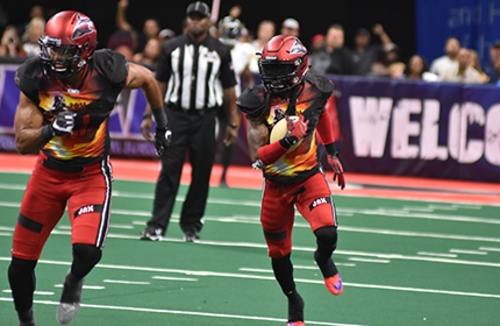 05/20/2017 8:53 PM
-
JACKSONVILLE – The (8-0) Jacksonville Sharks defeated the (3-3) Monterrey Stee 42-13 during Star Wars night in front of their biggest home crowd yet of 8,970 fans.


The Sharks once again came out with the first score of a game with a field goal by Nick Belcher, which were the only points scored in the first quarter. Thanks to an interception by Micheaux Robinson, the Sharks earned good field position for the beginning of the second quarter, which Derrick Ross capitalized on to score the first touchdown of the night. Add on a deuce by Belcher and the Sharks were up 12-0 against the Steel. David Hyland executed an impressive interception, but the Sharks gave the ball right back to Monterrey shortly after. Towards the end of the first half, the Sharks blocked a field goal which caused a safety, adding two more points on the scoreboard for Jacksonville. Monterrey scored a deuce kicked by Rutherford, the score 14-2 going into the second half.


Erick McIntosh caught his first interception of the night early in the third quarter, but Monterrey struck back with a safety. Nick Belcher wasn't about to let the Steel get away with two points, so he scored another deuce for the good guys. McIntosh lit up the Shark Tank with a huge pick-six that put the Sharks ahead 23-4. Nick Belcher then kicked his third deuce of the night, having another standout game. Monterrey scored their first touchdown to make the score 25-11.


Mo Williams had his turn and scored a 45-yard touchdown. The Sharks went for a two-point conversion and it paid off. Belcher tied his record this season with his fourth deuce of the game on the kickoff. Micheaux Robinson had his second interception of the night in the fourth. The Boss had his second touchdown of the night, which was no surprise to the Shark fans. That was the last score of the night, putting the Sharks at a 42-13 win.


Next, the Sharks will take the road against the Corpus Christi Rage on Sunday, May 28 at 7 p.m.


Players of the Game


Offensive Player of the Game - London Crawford

Defensive Player of the Game - Erick McIntosh

Special Teams Player of the Game - Nick Belcher




About the Jacksonville Sharks


The Jacksonville Sharks are members of the National Arena League (NAL). The ArenaBowl XXIV and four-time South Division Champions play all home games at the Jacksonville Veterans Memorial Arena. Sharks Nation Memberships for the 2017 season are now available. Shark Nation Memberships start as low as $99. To become a Shark Nation member or for more information please call (904) 621-0700. Follow the Sharks on facebook at facebook.com/jaxsharks and on Twitter and Instagram @jaxsharks, as well as the Attack Dance Team at facebook.com/sharkattackdance and Chum at facebook.com/chumsharks.