News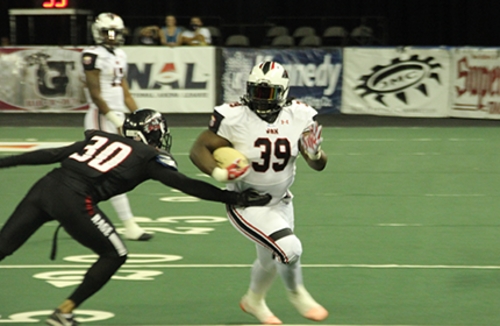 05/28/2017 8:44 PM
-
(Corpus Christi, TX) Following the dismissal of undefeated head coach Mark Stoute, new Jacksonville Sharks head coach Siaha Burley was more than impressive in his debut perfomance Sunday night. Jacksonville is now off to a franchise-best 9-0 start after their 71-6 victory over the Corpus Christi Rage (0-8).


Damien Fleming, playing in his 7th game of the season after taking over for Tommy Grady, showed excellent poise in the pocket for the entire game. Fleming starting the scoring early and often, finding receiver Devin Wilson for scores on the Sharks first two offensive series. Fleming would go on to add two more touchdowns, giving him four for the game. Erick McIntosh and David Hyland both returned Jake Joblonski passes for touchdowns, along with three Derrick Ross rushing touchdowns that led to the comfortable Jacksonville victory.


Jacksonville's pass rush was just too much for Corpus Christi to contain. Quarterback Jake Joblonski could never get enough time to find his rhythm, and led to two first half safeties by the Sharks defense, who led 51-6 after two quarters.



Neither starter finished the game for their respective team, with Tyler Johnson playing in relief of Damien Fleming. Kyle Cool relieved Corpus Christi starter Jake Joblonski during the 4th quarter.



The 71-6 margin matches the score of their previous matchup, a Jacksonville home victory taking place May 6th.



Up next for Jacksonville is a return to the Shark Tank, where they will welcome the Dayton Wolfpack (0-6) for Pirates & Princesses night on June 3rd at 7 PM.