News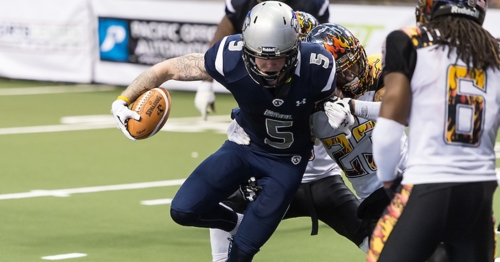 04/24/2018 8:46 AM
-
JACKSONVILLE- Wide Receiver Tom Gilson signs with the Jacksonville Sharks for his sixth season of arena football. Most recently, Gilson played with the Cleveland Gladiators in 2017, receiving the ball 18 times for 200 yards and one touchdown. In 2016, Gilson signed with the Portland Steel, which is the year they went from the Thunder to the Steel. That year, Gilson racked up 132 catches for 1,303 yards and 14 touchdowns. Gilson played for the Los Angeles KISS in 2015 and recorded 53 catches for 549 yards and seven touchdowns. Gilson began his AFL career with the Cleveland Gladiators in 2014 and recorded three receptions for 42 yards and one touchdown. In 2013, Gilson started his professional career with the Lehigh Valley Steelhawks of the PIFL. That season, Gilson had 93 receptions for 946 yards and 19 touchdowns in the regular season. In one game in the playoffs, Gilson had six catches for 93 yards and three touchdowns. Also that year, Gilson earned PIFL Offensive Rookie of the Year and 2nd Team All-PIFL Honors.


Gilson also played defense in each of his seasons in the AFL. In 2017 with the Gladiators, he had one tackle. In 2016, Gilson was more involved with the Steel by getting 17 tackles. In 2015 with the KISS, Gilson recorded 12 tackles, recovered two fumbles, and had one pass breakup. In 2014 with the Gladiators, he had four tackles.


Gilson attended the University of Massachusetts. In 2007, Gilson was a redshirt. In 2008, Gilson earned the Outstanding Offensive Scout Team Player award. Gilson played in six games in 2009, but did not have any catches. In 2010, he played in 10 games as a Junior. He punted the ball two times for 78 yards. As a Senior in 2011, Gilson caught 39 passes for 446 yards.


Gilson is a native of Mansfield, Massachusetts and played high school football at Mansfield High School in Mansfield, Massachusetts. He played quarterback and wide receiver in high school and earned his letter for each position twice. In his high school football career, he compiled a 44-2 record and went to the state championships in both 2003 and 2004 with a combined record of 25-0. In 2005 and 2006, Gilson and his team won state championships back to back with a combined record of 19-2. In two seasons, he caught 54 passes for 1,154 yards and a school record of 15 touchdowns. As a senior, he had 32 catches for 635 yards and seven touchdowns. He was also a team captain in basketball. He qualified for states in the Triple Jump and 4x100 relay in Track and Field.


About the Jacksonville Sharks


The Jacksonville Sharks are members of the National Arena League (NAL). The 2017 NAL Champions and ArenaBowl XXIV Champions and play all home games at the Jacksonville Veterans Memorial Arena. Sharks Nation Memberships for the 2018 season are now available. Shark Nation Memberships start as low as $75. To become a Shark Nation member or for more information please call (904) 621-0700. Follow the Sharks on facebook at facebook.com/jaxsharks and on Twitter and Instagram @jaxsharks, as well as the Attack Dance Team at facebook.com/sharkattackdance and Chum at facebook.com/chumsharks.