News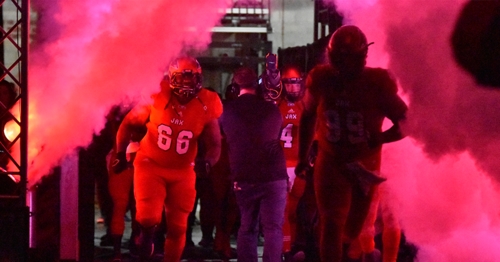 04/25/2018 1:42 PM
-
JACKSONVILLE- The Jacksonville Sharks (1-2) host the Carolina Cobras (2-1) for 90's Night in Jacksonville, Florida. This is the second meeting between these two teams. Last time the Sharks played the Cobras, it was back and forth, but the Sharks ended up pulling away with a 41-38 victory. The Cobras, however, have beat the Massachusetts Pirates (2-1) last week while the Sharks fell short to them two weeks ago.


Last week against the Lions, the Sharks struggled to get things started, but eventually found the end zone. After the first touchdown, the Sharks started to get in a rhythm, as Quarterback Ryan Walker threw six touchdowns on the night. The Sharks were facing a 35-51 deficit in the fourth quarter with less than a minute to go. The Sharks scored a touchdown and recovered the onside kick, but it was too late by then, losing to the Lions 41-51 in Columbus, Georgia.


On the defensive side of things, the Sharks looked outstanding. The defensive linemen and linebackers played a huge part in rushing the quarterback and forcing many throws in which went out of bounds. The defensive backs also played a role in the quarterback throwing the ball away, covering the receivers and not allowing them to make any catches.


The Sharks look to come out on the winning side against the Cobras again, especially at home. Players to watch include Quarterback Adrian McPherson, our newest quarterback to the team and former AFL Rookie of the Year, and Defensive Lineman Damien Jacobs. Jacobs has multiple sacks and turnovers on the season entering week four. For the defensive backs, a rising star on the team is Ken Walton. Walton has played on the same team as multiple players on the Cobras roster. Watch out as he looks to shut down his former teammates at the receiver position.


The Sharks face the Cobras a total of three times this season, this being the second matchup. The next and final game against the Cobras will be on Saturday, June 9, 2018. This Saturday's game will be streamed on Youtube Live, a link to the stream will be posted on www.facebook.com/jaxsharks


About the Jacksonville Sharks


The Jacksonville Sharks are members of the National Arena League (NAL). The 2017 NAL Champions and ArenaBowl XXIV Champions and play all home games at the Jacksonville Veterans Memorial Arena. Sharks Nation Memberships for the 2018 season are now available. Shark Nation Memberships start as low as $75. To become a Shark Nation member or for more information please call (904) 621-0700. Follow the Sharks on facebook at facebook.com/jaxsharks and on Twitter and Instagram @jaxsharks, as well as the Attack Dance Team at facebook.com/sharkattackdance and Chum at facebook.com/chumsharks.