News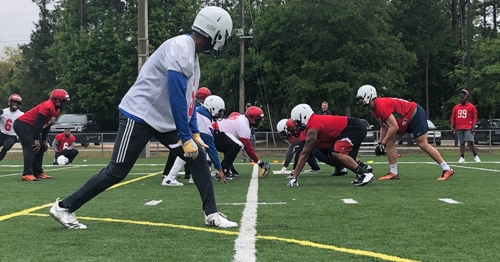 04/02/2019 7:30 PM
-
JACKSONVILLE – The Jacksonville Sharks announced today that they have signed three new players to be added to the Training Camp roster. The new additions include Defensive Back Tavon Bailey, Defensive Back Robert Brown, and Wide Receiver Anas Hasic.

Defensive Back Tavon Bailey (6'0,195) signs with the Sharks for his first season of arena football. He attended Gannon University and totaled 146 tackles, 36 pass breakups, one forced fumble, and four interceptions returned for 44 yards and one touchdown. He is a native of Lanham, MD and attended DeMatha Catholic High School.

Defensive Back Robert Brown (6'3,215) signs with the Sharks for his fifth season of arena football, his second with the Sharks. Last season, Brown started the season with the Sharks but finished the year with Maine Mammoths. He totaled 7.5 tackles with the Sharks and 48 tackles, four interceptions returned for 47 yards, six pass breakups, forced one fumble, and recovered one fumble for 38 yards with the Mammoths. In 2017, Brown played for the Spokane Shock and tallied up 40 tackles, 10 pass breakups, and three interceptions. During the 2016 season, Brown was named All-IFL with the Shock and after having 104 tackles and seven interceptions. He played with the Cedar Rapids Titans for the 2015 season and recorded 31 tackles, five pass breakups, and one interception. Brown started his arena career with the Cedar Rapids Titans in 2015 and piled up 27 tackles, two pass breakups, one interception, one forced fumble, and one fumble recovery.

Wide Receiver Anas Hasic (6'0,218) signs with the Sharks for his first season of arena football. He attended Scottsdale Community College before transferring to North Carolina Central University. During his time at Scottsdale CC, Hasic made 58 catches for 890 yards and 10 touchdowns. At NCCU, he totaled 36 receptions for 530 yards. After NCCU, Hasic transferred to Arizona State, but did not play. After Arizona State, he had one more year of eligibility and transferred to the University of West Florida. Hasic is a native of Croatia.

In addition to player signings the Sharks released several players including receivers Darryl Boggan and Ja'Juan Story; and lineman Justin Wells. The Sharks also will be placing several players on the inactive refused to report list including DB Marvin Ross, OL Fred Ruff, LB Leon Mackey, OL Wilson Bell, DB Rush Imhotep, and QB Liam Nadler.

Last weekend, players officially reported to camp. Yesterday on Monday, April 1 all players in camp went through preseason required physicals and conditioning. Last night the team held an orientation dinner at Carrabba's Italian Grill in Mandarin there the players also hosted a meet & greet for autographs with fans and customers. Today was the first official day of training camp where players competed against each other for roster positions. Training camp will continue through Friday with practices scheduled from 10:00 am to 12:00 pm and meetings in the afternoon.

Saturday the team will have a final scrimmage after that the Sharks will host Fan Day at training camp where players, coaches, staff, Chum, and the Attack Dance Team will get to meet Sharks nation. There are plenty of fun activities and live music in store for that event. Fan Day officially kicks off at 1:30 pm and will end at 3:00 pm. Fan Day will be located at the sports fields at Ed White High School (1700 Old Middleburg Road, Jacksonville, FL 32210). So whether you want to come get some new Sharks gear, meet & greet with players, chum it up with Chum or to buy season tickets join us Saturday for Fan Day. Sunday the players will have the day off and the coaching staff will meet to go over final cuts in preparation for the regular season.

About the Jacksonville Sharks
The Jacksonville Sharks are members of the National Arena League (NAL). The 2017 NAL Champions and ArenaBowl XXIV Champions and play all home games at the Jacksonville Veterans Memorial Arena. Sharks Nation Memberships for the 2019 season are now available. Shark Nation Memberships start as low as $75. To become a Shark Nation member or for more information please call (904) 621-0700. Follow the Sharks on facebook at facebook.com/jaxsharks and on Twitter and Instagram @jaxsharks, as well as the Attack Dance Team at facebook.com/sharkattackdance and Chum at facebook.com/chumsharks.