News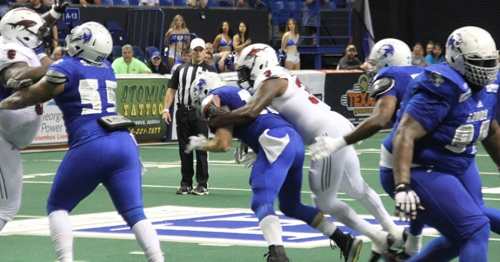 04/19/2019 10:03 PM
-
COLUMBUS – The Jacksonville Sharks (1-1) entered Columbus, GA to take on their rival Lions (0-2) on a Friday night showdown and a week two matchup for the National Arena League season. This victory gives Jacksonville a .500 win percentage and a 1-0 road record going into the bye week. After an upset loss during the home opener the Sharks struck back in week two with a dominant performance on all three phases of the game.


Quarterback Jonathan Bane led the Sharks offense in a hostile Lions Den. The game started off a first half battle but later became a late second half slaughter. The new Sharks QB scorched the Lions defense with 18 completions for 178 yards, and five touchdowns. His top target, former Lions Wide Receiver Durron Neal who made his 2019 debut with 10 receptions for 83 yards and two touchdowns against his former team. The Bane & Wilson duo continued in week two as Wilson finished the night with six receptions for 67 yards and two touchdowns. Bane proved that he can spread the offense on the road as each starting receiver on the Sharks offense scored at least one touchdown (Neal, Wilson, Fortson).


The Sharks had an impressive night on special teams, led by kicker Brandon Behr. Jacksonville's kicker had a career high three deuces including the opening kick that put the Sharks up 2-0 before the Lions could even touch the football. Behr also went 100% on PATs going six for six tonight.


On defense, Jacksonville dominated the second half holding the Lions to only 50 passing yards. On the night, the Sharks defense held the Lions to 2 for 8 on third down conversions, eight sacks, two forced and snatched two interceptions. Seth Ellis made his 2019 debut with seven tackles.


The (1-1) Sharks head back to Jacksonville and enter their first bye week of the 2019 season. Jacksonville will face the Massachusetts Pirates Saturday, May 4th at 7pm in Worcester, MA at the DCU Center. If the Sharks beat the Pirates they will advance to 2-1 overall and 2-0 on the road.


About the Jacksonville Sharks


The Jacksonville Sharks are members of the National Arena League (NAL). The 2017 NAL Champions and ArenaBowl XXIV Champions and play all home games at the Jacksonville Veterans Memorial Arena. Sharks Nation Memberships for the 2019 season are now available. Shark Nation Memberships start as low as $75. To become a Shark Nation member or for more information please call (904) 621-0700. Follow the Sharks on facebook at facebook.com/jaxsharks and on Twitter and Instagram @jaxsharks, as well as the Attack Dance Team at facebook.com/sharkattackdance and Chum at facebook.com/chumsharks.