News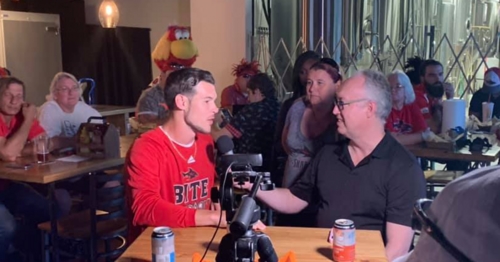 04/24/2019 8:35 AM
-
Join us tonight live from Atlantic Beach Brewing Company for the third episode of the Sharks Fan Show. One lucky fan this Friday will win two FREE Premium Seats to the next Sharks home game! Many other Sharks prizes will be given away during the show and being there is the only way to win. So invite your family, invite your friends and join us at Atlantic Beach Brewing Co. this Friday night at 7pm.
Who: The Sharks Fan Show is hosted by CW17's Joe Talentino the host of "I KNOW JAX." This weeks episode will feature All-Arena, All-NAL, and Sharks All-Decade Jack Lineback Charlie Hunt who is currently the team's Director of Player Personnel and Special Teams Coordinator. Special Guest Defensive Lineman & the Sharks 2019 current sack leader Nick Woodman will join the show along with other Sharks guests.
What: The Sharks Fan Show is weekly live stream show and the number one place to get inside information about the Jacksonville Sharks directly from our coaches, players, and staff. It is a interactive show that allows our fans to attend each episode and to participate by asking questions live on the air and enjoying many free Sharks give aways! This week and this week only the Sharks will be giving away TWO FREE FIELD SUITE SEATS for one lucky fan that attends the show this Friday.
When: Friday, April 24 at 7pm.
Where: Atlantic Beach Brewing Company located at 725 Atlantic Blvd in Atlantic Beach, FL.
Why: Because it is one more way that you can interact with our players, coaches, staff, and dance team during the season while earning great Sharks prizes FOR FREE! Come out this Friday and spend a evening with the Jacksonville Sharks at Atlantic Beach Brewing Company.