News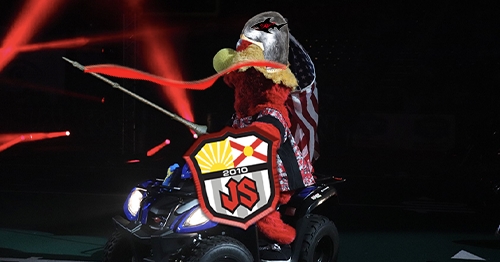 03/06/2020 9:14 AM
-
JACKSONVILLE – The Jacksonville Sharks have announced their Theme Nights and Promotions schedule for the upcoming 2020 season. The Sharks have a variety of creative themes designed to bring fans the best experience possible. In addition, the team will incorporate a number of appreciation nights to celebrate certain groups in the community. All games will kick off on Saturdays at 7 p.m.

APRIL 25TH - Southern Rock Night
For the Sharks' first home game of the season, they are going to get the party rolling with Southern Rock night. Enjoy great songs from bands such as Lynyrd Skynyrd, ZZ Top and 38 Special, along with other great groups from this sensational genre. Rock out and have some memories flashback as you listen to song after song from these great artists. Check out the movie clips and trivia questions for even more fun. We'll give ya 3 steps to check out the new Shark merch at our team store. Celebrate the Sharks previous Championship season as the team unveils the 2019 National Arena League Championship Banner. Halftime will include a performance by the Second Shot Band as they entertain the Shark Tank with some live Southern music and there will be an appearance from the new 2020 Attack Dance Team!

MAY 2ND- Medieval Night
Lords and Ladies, his majesty and the royal roundtable of Sharks ownership are proud to announce, for the first time in Sharks' history, that "Medieval Night" has been set in stone. Dilly, Dilly! Enjoy a classic new theme from the dark ages, and whether you're a knight, princess, peddler or just another peasant, you can enter the arena Fortress feeling like a king or queen. Take sight of a theatrical performance by the Attack Dance Team. Get your picture on the royal throne, get knighted by our king, or get crowned by our queen as one of our princesses in our royal princess court. Root for your favorite shining knight in "Under Armour" as the Sharks take on the West Virginia Roughriders. Game of Thrones fans can take a selfie at seven different locations in the arena each uniquely marked for one of the seven kingdoms. Winners will receive a special Sharks gift for their successful quest but are required to avoid all dragons, trolls, and raiding parties from the house Roughriders. Enjoy a medieval festival outside the arena with jousting, juggling, turkey legs, and ale all (k)night long inside the arena. Do not miss an evening of glory at the Sharks' first-ever medieval knight. Warning, beware of Viking invasions. If you see any signs of pillaging contact your local noblemen, "Sir Chancelot" or call: 904-621-0700.

MAY 16TH - Pirates & Princess Night and Education Appreciation Night
Walk the plank and dive into the Shark Tank as we welcome back Pirates & Princess Night. Get your eye patch, skull and cross bones, and captain hat ready to go as the Sharks host the Orlando Predators. The Sharks reserve this night to honor all the local Educators. Join us as we recognize all the great teachers, faculty, and staff in the North Florida area. Arrrrrrrrr you ready for some football? Let's see who's really a fan and a part of Red Beards Crew, as Chum "Red Beard" may be looking for new mates to join his band of pirates! Enjoy classic movie clips and pirate songs as we look to sink the Predators down to the depths of the NAL standings. Follow our treasure map to find all eight pieces hidden throughout the arena. Any lucky fans that find the treasure and share it with the Sharks will receive a special Sharks prize that's as good as gold! Let's storm the tank in real pirate fashion and show Orlando "It's a Sharks life for me"! The Girl Scouts of America will try to fend off the night as they sleepover in the Shark Tank. Will they find the treasure?

MAY 30TH - Military Appreciation Night
Help the Sharks salute those who have served and are currently serving our armed forces for Military Night. All active and military veterans, as well as their families, will receive a special buy-one-get-one-free ticket offer. The Sharks will have a special full-field flag displayed for the national anthem, hometown heroes from every service branch will be recognized during the game, and multiple military theme tributes will occur throughout the night. Check out the battle between the Army and Navy football teams as they take part in a halftime flag football game sponsored by USAA. The Sharks look to become a Major Pain for the Columbus Lions. The Sharks will also host boy scout night, which will include a sleepover and movie for all boy scouts troops that register prior to this game. To sign up for boy scout night visit jaxsharks.com or contact [email protected]

JUNE 6TH - Halloween in June
Sharks fans, we heard you and brought it back. The polls are in and Halloween in June is back in the theme night lineup for 2020. This year, Halloween in June will be against the Carolina Cobras. Get ready for a spooky night of fun with our pals from the 13th Floor Haunted House and walk into our haunted halls of the arena if you're "lurking" for a scream! Not looking to get scared? There will be several non-scare zones set up throughout the arena including our main concourse trick or treat lane where kids will fill their candy bags with treats from our sponsors. Enjoy many classic monster movie clips and a creepy-crawly halftime show by our Attack Dance Team. Help the Sharks haunt the Cobras all throughout the arena! We will see you there if you DARE...

JUNE 27TH - Star Wars Night
In a galaxy far… far... away... your sharks will make a stand to secure their post-season supremacy over the evil forces of the rebellious Jersey Flight on Star Wars Night. The first 1,000 kids in attendance will enjoy free Jedi lightsabers. Fans will search the arena space station for five mounted images of Baby Yoda to win an exclusive Sharks prize. Spend your pregame hanging out with Darth Vader as our allies at the 501st Battalion will return in full force to invade the Veteran Memorial Space Station with characters from the entire saga. Stick around after the game as the Sharks will auction off their custom Star Wars jerseys.

JULY 18TH - Shark-A-Ritaville & Fan Appreciation Night
To cap off the 2020 regular-season, the Sharks will celebrate with their tropical-themed Shark-A-Ritaville Night. What better time of the year than mid-July to wear Flip flops, Hawaiian Leis and sing Jimmy Buffett and Beach Boys songs. Not only will this night be a celebration of the regular season, but the Sharks will also be celebrating you, the fans. With special prizes and merchandise deals this is the game to circle on your calendar and make sure you don't miss. As they say "It's 5 o'clock somewhere", so grab a special Shark Attack drink and cheers to your Sharks.

Jacksonville Sharks 2020 Theme Night Schedule

Saturday, April 25th, 7 p.m. - Southern Rock Night

Saturday, May 2nd, 7 p.m. - Medieval Night

Saturday, May 16th, 7 p.m. - Pirate & Education Appreciation Night

Saturday, May 30th, 7 p.m. - Military Appreciation Night

Saturday, June 6th, 7 p.m. - Halloween in June

Saturday, June 27th, 7 p.m. - Star Wars Night

Saturday, July, 18th 7 p.m. - Shark-A-Rita & Fan Appreciation Night



Enjoy all the theme Nights this year by getting your Sharks Season Tickets today, Call 904-621-0700 or visit: www.naltickets.com/sharksticketsnews to become a presenting sponsor of any of our available theme nights contact [email protected]



About The Jacksonville Sharks


The Jacksonville Sharks are members of the National Arena League (NAL). The 2019 & 2017 NAL Champions and ArenaBowl XXIV Champions and play all their home games at the Jacksonville Veterans Memorial Arena. Sharks Nation Memberships for the 2020 season are now available. To become a Shark Nation member or for more information please call (904) 621-0700. Follow the Sharks on Facebook at facebook.com/jaxsharks and on Twitter and Instagram @jaxsharks, as well as the Attack Dance Team at facebook.com/sharkattackdance and Chum at facebook.com/chumsharks.