News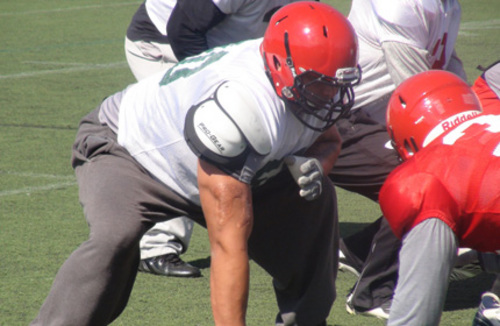 03/07/2013 5:30 PM
-
JACKSONVILLE – The 2012 South Division Champion Jacksonville Sharks held their sixth practice of 2013 training camp at Plantation Park on Thursday morning. After Wednesday's helmets-only workout, Thursday's practice saw the team return to full contact.

After stretching, warm-up and individual drills, the hitting began Thursday with the one-on-one session. While the matchups between defensive backs and receivers saw their fair share of collisions, as usual some of the most intense physical battles came in the trenches as the Sharks' offensive linemen squared off against their defensive counterparts.

This session served as a showcase for the Sharks' veteran offensive front, a group that includes returning linemen Isaac Morales and Brant Clouser, as well as fullback Rendrick Taylor. These returning Sharks are joined by newcomers Cornelius Lewis and Nick Torresso, each of whom saw significant action with their respective teams during the 2012 season. After Thursday's practice, Morales talked about how this season's offensive line is coming together.

"We've got a lot of vets on the o-line, so everyone's catching on pretty quick," Morales said. "Technique-wise we've got to keep getting better every day, but we're going to be pretty solid by the first game."

Morales has had plenty of chances to go against the Sharks' defensive line, a deep group that is comprised of a few returning Sharks, several AFL veterans who are new to Jacksonville and a few talented rookies. On Thursday, Morales also spoke about what that unit brings to the table.

"They're all awesome guys, and I know they're ruthless. When it comes to the D-line, they're going to come in and try to get sacks every time. It's good, they're going to make us as an O-line better."



Player Spotlight

Few players have played more games in a Shark uniform than Morales. Now entering his fourth season in the AFL, Morales anchored the team's offensive line in both 2010 and 2011, then battled back from injury to return to the team midway through 2012. Morales was one of the first players to commit to the 2013 Sharks, agreeing to a two-year contract this past October.



Morales and the Sharks have now practiced on six consecutive days to open training camp, with two more workouts to go before an off day on Sunday. No stranger himself to the rigors of training camp, Morales feels that the team is holding up well, especially after three full-contact practices over the last four days.



"Everybody's gonna be sore. It's natural, neck, legs, hips, everything's gonna hurt," Morales said. "It just comes with the sport, you gotta be in shape, you gotta keep working out. This is what we do. We love it, and we're gonna be good."


Up Next

The Sharks will strap on the pads again at Plantation Park on Friday morning. Friday's practice will begin at 8:30 a.m. and is open to the public.


About the Jacksonville Sharks

The Jacksonville Sharks are members of the Arena Football League (AFL). The ArenaBowl XXIV and back-to-back-to-back South Division Champions are presented by Sea Best Seafood and play all home games on Sea Best Field at the Jacksonville Veterans Memorial Arena. Season Tickets for the 2013 season are now available, two tickets as low as $185. To reserve your season tickets or for more information, please call (904) 621-0700. Follow the Sharks on facebook at facebook.com/jaxsharks and on Twitter @jaxsharks, as well as the Attack Dance Team at facebook.com/sharkattackdance and Chum at facebook.com/chumsharks.