News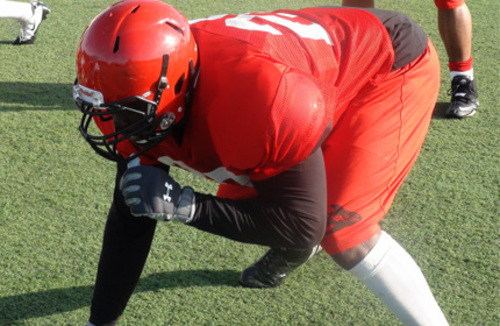 03/11/2013 4:35 PM
-
JACKSONVILLE – The 2012 South Division Champion Jacksonville Sharks returned to the practice field at Plantation Park on Monday morning. After Sunday's day of rest, the team kicked off the second week of training camp with a full-contact workout.

This past weekend was the Sharks' first significant break of the season, as players had a day and a half off after eight straight days of practice and meetings. On Monday, the team shook off a little bit of rust as the practice progressed from individual drills to one-on-ones, three-on-threes and the final team session. Following Monday's workout, head coach Les Moss shared his thoughts on the day's work and the week ahead.

"After a couple days off or the weekend after a game, the first practice is normally kind of sluggish, and then they get back into it" Moss said. "Tomorrow will be crisp, they'll be ready to go. We've really only got two more days of practice and then we've got Orlando coming to town, so we're excited about that."

Monday's practice marked the first time that the Sharks took the field with a 28-man roster, as teams could carry 35 players for the first week of camp but must now work with a smaller roster. The Sharks will work this entire week – including Friday's preseason scrimmage - with 28 active players, then must reduce that number to the regular-season limit of 24.

Like any team, the Sharks have dealt with bumps, bruises and fatigue during camp. On Monday, Moss also discussed how his players are dealing with training camp's physical challenges.

"It's really less than 28 because we've got some guys that are nicked up," Moss said. "They're fighting through it. It's training camp still so they've got to keep fighting for their jobs, but we're doing alright."


Player Spotlight

Of all the players who have suited up for the Sharks during training camp, not one has more AFL experience than defensive lineman Jerry Turner, who is entering his seventh year in the league. After two years with the Georgia Force, Turner heads south to play for the team that ended his season in both 2011 and 2012. After Monday's workout, Turner spoke about his early impressions of the Jacksonville organization.

"I think everybody handles themselves like a professional [here]," Turner said. "I'm excited to be here. When I'm out [around town] a lot of people seem to respect the Sharks, which is a good thing for this league and on this level. So far, everything is great."

Turner is one of four members of the 2012 Force to don a Shark uniform this year, joining fellow defensive lineman Matt Marcorelle, quarterback R.J. Archer and defensive back Tracy Belton. With Georgia last year, Turner led his team with five tackles for loss and added four sacks and three fumble recoveries.

Like all of his Shark teammates, Turner is looking forward to lining up against the Orlando Predators during Friday's preseason scrimmage.

"It's not just seeing another jersey, but getting to hit the quarterback instead of just running him down," Turner said. "That's what we're here to do, rush the passer, so it's tough to stay intense when you can't really get to what you want. We're looking forward to it, very much so."


Up Next

The Sharks return to the practice field for another full-contact workout on Tuesday morning. Practice is set to begin at 8:30 a.m. and will be open to the public.


About the Jacksonville Sharks

The Jacksonville Sharks are members of the Arena Football League (AFL). The ArenaBowl XXIV and back-to-back-to-back South Division Champions are presented by Sea Best Seafood and play all home games on Sea Best Field at the Jacksonville Veterans Memorial Arena. Season Tickets for the 2013 season are now available, two tickets as low as $185. To reserve your season tickets or for more information, please call (904) 621-0700. Follow the Sharks on facebook at facebook.com/jaxsharks and on Twitter @jaxsharks, as well as the Attack Dance Team at facebook.com/sharkattackdance and Chum at facebook.com/chumsharks.