News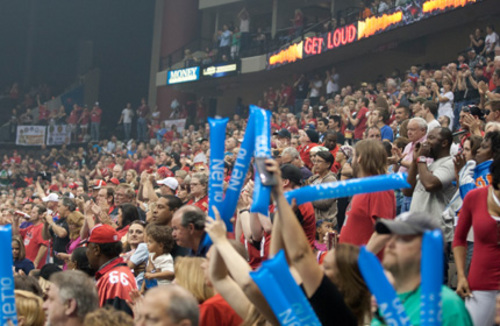 06/06/2014 9:41 AM
-
JACKSONVILLE - The Sharks are back in the Tank this week! We're ready to rock Sea Best Field for a matchup against the Spokane Shock on Saturday, June 7. Kickoff is at 3 p.m., and this game will be broadcast across the country on ESPNEWS! We need to you to help us pack Jacksonville Veterans Memorial Arena this week!

The Sharks have returned from their second bye week of the season and are ready to get back on the winning track. This is the only meeting between these two teams this season, and we want your help to send the Shock back to the Pacific Northwest with a loss!

Whether you are a longtime Season Ticket Holder or about to head to your first Sharks game, please see below for a rundown of what to expect at the Shark Tank on Saturday!


Early Kickoff Time

Please note that kickoff for Saturday's game has been moved to 3:00 p.m. in order to accommodate the ESPNEWS broadcast. Kickoff will occur promptly at 3:03 p.m., so be sure to arrive early and be in your seats!


Box Office Schedule

Due to the early kickoff time, the Arena Box Office will open at 10:00 a.m.


USA Soccer

If you're planning on going to the USA Soccer match, don't worry! Due to the national broadcast, the Sharks' game will be over by 5:30 p.m., giving you plenty of time to head over to the stadium. Support the Sharks and support Team USA in one great day of sports in Jacksonville!


Weather Forecast

The forecast calls for 90 degrees with 90% humidity and a 55% chance of rain. Remember, it's always sunny and only 68 degrees at a Sharks game!


Education Appreciation Night

For our annual Education Appreciation Night, we are offering several great ticket specials for this week's game:

• Elementary School students receive a FREE ticket with the purchase of an adult ticket.
• Buy One, Get One Free tickets for all school teachers, administrators and employees with the presentation of a valid school ID.
• In addition, anyone who presents a ticket for the USA-Nigeria soccer match or is wearing Team USA apparel will receive $5 off tickets at the arena box office.

For more information about these ticket specials, please visit jaxsharkstickets.com or call the Sharks Ticket Office at 904-621-0700.


Concession Specials

For Saturday's kid-friendly game, we've got kid-friendly concession prices!

$3 Sodas
$3 Cotton Candy
$3 Nachos
$3 Popcorn


Parking

Don't worry about parking on Saturday! All lots will be open and Lot Z and Lot J passes will be honored. Plus, with the early kickoff time, you'll be able to get to the arena before most of the USA Soccer fans head to the stadium.


Chum's Birthday

Saturday will be Chum's birthday party, so be sure to come out and celebrate with Chum and his mascot friends!


Inflatamaniacs

Don't miss the Inflatamaniacs' only appearance in Jacksonville! The inflatamaniacs are a world-famous inflatable entertainment act that will have you rolling in your seats! Watch Hollywood, Ice, G Money and Munchie as they make their annual appearance on Sea Best Field. For more info, head on over to www.inflatamaniacs.com.


Sea Best Concession Stand

If you didn't get a chance to enjoy some delicious Sea Best Seafood at the new Sea Best Concession Stand during our last home game, be sure to stop by tonight! It's located in the Food Court behind Section 102 - Stop by to choose from some of your favorite seafood eats!

The Sea Best Concession Stand offers the following menu:

Grilled Mahi w/ Caribbean Slaw Sandwich
Fish and Chips
Crab Cake Sliders
Torpedo Coconut Shrimp


Customized Jerseys

Ever wanted a Sharks jersey with your name and your favorite number? Now it can be yours! Be sure to check out our brand-new customized jersey press in the Cage, located in the main lobby next to the Jacksonville Sports Hall of Fame.


Sharks Happy Hour

We're offering a Happy Hour special for Shark fans. From 1:30-2:30, 16 oz. cans of Pabst Blue Ribbon (PBR) will be discounted to $5 each. Be sure to arrive early and grab a cold one!


Season Ticket Holder Item Pickup

Sharks Season Ticket Holders will be able to pick up their Tailgate Chairs at Saturday's game.
Tailgate Chairs will be available beginning at the start of the fourth quarter in the Cage, located in the main lobby next to the Jacksonville Sports Hall of Fame.


Attack Dance Team Calendar

The 2014-15 Attack Dance Team Calendar is on sale! They are available for purchase at the Attack's Pregame Signing in the main lobby, as well as at our Merch Stand, located in the Main Concourse behind Section 106. Be sure to pick up your copy and get it signed by the Attack during our Postgame Autograph Session!


SharkFest

We're ready to kick off the night at SharkFest! Check out our pre-game block party just outside the front entrance of Sea Best Field!

Many of our corporate partners will be on hand, so be sure to check out their displays and support the businesses that support the Sharks. It's all set to begin at Noon on Saturday, but please note that inclement weather may impact the exact nature of SharkFest.


Bucket Policy

Please note that for safety purposes, fans will not be able to bring buckets and other large noisemakers into the arena.


Doors Open

On Saturday, doors will open at 1:30 p.m. for season ticket holders and 2:00 p.m. for the general public.


About the Jacksonville Sharks

The Jacksonville Sharks are members of the Arena Football League (AFL). The ArenaBowl XXIV and four-time South Division Champions are presented by Sea Best Seafood and play all home games on Sea Best Field at the Jacksonville Veterans Memorial Arena. Season Tickets for the 2014 season are now available, two tickets for as low as $105. To purchase your season tickets or for more information, please call (904) 621-0700. Follow the Sharks on facebook at facebook.com/jaxsharks and on Twitter @jaxsharks, as well as the Attack Dance Team at facebook.com/sharkattackdance and Chum at facebook.com/chumsharks.


About the AFL

Since its inception in 1987, the Arena Football League has showcased a fast-paced and exciting game to millions of fans in a myriad of markets across the country. The ESPN family of networks and CBS Sports Network will nationally broadcast AFL games each week for the entire season. The AFL schedule then culminates with the ArenaBowl Championship game live on ESPN.