News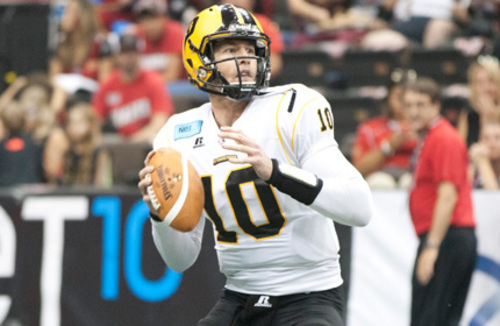 01/20/2015 3:20 PM
-
JACKSONVILLE – The Jacksonville Sharks announced Tuesday that veteran quarterback Tommy Grady has joined the team, as Grady has been assigned to the Jacksonville roster on a one-year contract. Per team policy, terms of the deal were not disclosed.

"We just got a lot better as a team today. Every championship team that I've been a part of has had great competition at every position, and great competition brings out the best in great competitors," Sharks head coach Les Moss said. "We are very excited to have Tommy become part of our organization this season, as he has an established track record of being an elite quarterback in this league. We are glad to have Tommy as the latest addition to the talented roster that we are continuing to build to win the ArenaBowl in 2015."

The 29-year-old Grady (6'7", 240), has firmly established himself as one of the Arena Football League's top quarterbacks, earning League MVP honors during an incredible 2012 season with the Utah Blaze. That year, Grady established new all-time single-season AFL records for passing touchdowns (142), attempts (743), completions (507), and yards (5,870), also tying the all-time record for touchdown passes in a single game (12). Grady has thrown for a total of 512 scores over the course of his five-year AFL career, crossing the 100-touchdown mark in three different seasons.

Most recently, Grady spent the 2014 season at the helm of the Pittsburgh Power offense, leading Pittsburgh to a 15-3 regular-season record. In his one year with the Power, Grady completed 60.4 percent of his passes, amassing a total of 4,717 yards and 115 touchdowns against 17 interceptions. Grady finished second among all AFL passers in touchdowns, yards and yards per game (262.5).

Grady spent each of the three previous seasons in Utah, hitting the 100-touchdown mark in both 2011 and 2012. In that record-breaking 2012 season, Grady earned League MVP, Offensive Player of the Year and First Team All-Arena recognition. In addition to setting four significant AFL records, Grady posted a career-best completion percentage (68.2) that year. In 2011, his first season with the Blaze, Grady completed 65.9 percent of his passes for 4,365 yards and 107 touchdowns against just 11 interceptions.

Grady's Arena Football League career began with the Oklahoma City Yard Dawgz, as he quarterbacked the team in 2009 while the franchise competed in af2, then moved up to the AFL with his team in 2010. As an AFL rookie, Grady completed 363 of his 597 pass attempts (60.8%) for 4,307 yards and 81 touchdowns against 17 interceptions.

Prior to the start of his professional career, Grady finished his collegiate career at the University of Utah after transferring from the University of Oklahoma. A backup for most of his time with both the Utes and Sooners, Grady stepped in to a more prominent role as a senior in 2007. His most notable performance in college was a 246-yard, three-touchdown performance in Utah's 44-6 rout of No. 11 UCLA.

A native of Huntington Beach, California, Grady attended Edison High School.


About the Jacksonville Sharks

The Jacksonville Sharks are members of the Arena Football League (AFL). The ArenaBowl XXIV and four-time South Division Champions are presented by Sea Best Seafood and play all home games on Sea Best Field at the Jacksonville Veterans Memorial Arena. Season Tickets for the 2015 season are now available, two tickets for as low as $99. To purchase your season tickets or for more information, please call (904) 621-0700. Follow the Sharks on facebook at facebook.com/jaxsharks and on Twitter @jaxsharks, as well as the Attack Dance Team at facebook.com/sharkattackdance and Chum at facebook.com/chumsharks.


About the AFL

Since its inception in 1987, the Arena Football League has showcased a fast-paced and exciting game to millions of fans in a myriad of markets across the country. The ESPN family of networks and CBS Sports Network will nationally broadcast AFL games each week for the entire 2015 season. The AFL schedule culminates each season with the ArenaBowl on ESPN.