News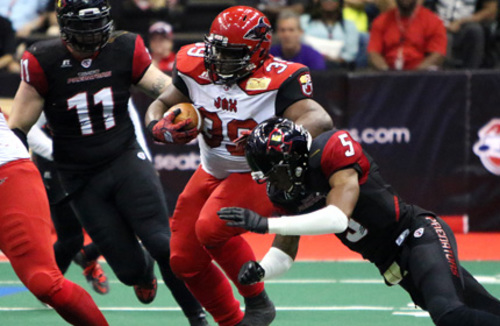 06/04/2015 7:21 AM
-
JACKSONVILLE – After two consecutive road games, the Jacksonville Sharks return to their home turf this weekend, as the team hosts the Orlando Predators on Saturday, June 6. Kickoff on Sea Best Field at the Jacksonville Veterans Memorial Arena is set for 7:00 p.m.

Jacksonville (5-5) enters this week just one game behind Orlando (6-4) in the South Division Standings, as each team has eight regular-season games remaining. This is the second of three matchups between the two teams, as the Predators topped the Sharks, 55-54, on Sea Best Field in Week 2. Jacksonville will head down to Orlando for the third matchup in Week 19.

The Sharks will take the field on Saturday as winners of four consecutive games, as Jacksonville extended its win streak with a 41-35 victory over the Los Angeles KISS this past Sunday. In that game, the Sharks raced out to a 21-0 lead, thanks in large part to Alvin Ray Jackson's interception return for a touchdown on Los Angeles' second snap. But the KISS battled back, as Los Angeles ultimately had possession of the ball in the final minute with a chance to win the game. The Sharks' defense stood strong, as Greg Reid intercepted Danny Southwick as time expired to seal the victory.

On Sunday, the Sharks came away with a victory despite scoring on just one of four offensive possessions in the fourth quarter. The team may not have as much margin for error this week, as Orlando enters Saturday's game with the Arena Football League's third-ranked scoring offense, averaging 57.9 points per game. With that said, the Jacksonville defense has found its form during this current four-game winning streak, holding four consecutive opponents under the 50-point mark. That recent run of defensive success has lifted the Sharks to fifth in the AFL in scoring defense, as Jacksonville is yielding 49.4 points per game through 10 weeks.

The Sharks have forced at least five defensive stops in each of the last four games, a result of both a dominant pass rush and a playmaking secondary. Joe Sykes racked up a pair of sacks in Sunday's matchup against the KISS, raising his league-leading totals to 16.0 tackles for loss and 12.0 sacks. While Sykes was the only pass rusher to get on the board with a sack on Sunday, Jacksonville constantly pressured Southwick from all angles. The Sharks will need that consistent pass rush against Bernard Morris and the Predator offense this week.

A sixth-year AFL veteran, Morris has taken the reins under center with Randy Hippeard on injured reserve. Starting each of the last four games, the former Shark has led Orlando to three consecutive wins. In those three wins, Morris has thrown a total of 16 touchdown passes without an interception.

Jacksonville must also contain the Predators' potent run game, which leads the league with an average of . Though he did not start at quarterback in the first meeting between these teams, Morris entered the game in red zone situations, rushing for four touchdowns in the Predators' victory. With Morris and fullback Michael Simons, Orlando is the only team in the League with two different 100-yard rushers this season. When Orlando is in short-yardage situations, containing Simons up the middle and Morris on the edge will be crucial for the Jacksonville defense.

Of course, the Sharks feature a potent rushing attack of their own, as Derrick Ross enters this week fresh off a 61-yard, three-touchdown performance against Los Angeles. Leading the League with 375 rushing yards and 19 scores, Ross has notched five touchdowns over the course of the last two weeks. Ross piled up 42 yards and two touchdowns on 10 carries in the first matchup with Orlando, and he will look for a similar performance this time around.

The Sharks will also need to be disciplined on special teams this week, as Predator kick returner Brandon Thompkins has brought back three kickoffs for touchdowns this season. Though they did not allow a touchdown a week ago, the Sharks gave up 136 yards on Los Angeles' five kickoff returns, an average of more than 27 yards per runback. Even if Thompkins does not break away for a score, the Sharks do not want Orlando's high-powered offense to start with good field position on a consistent basis.

Saturday's game kicks off at 7:00 p.m. Tickets for "Pirates and Princesses Night" are still available, and may be purchased by visiting jaxsharkstickets.com or calling 904-621-0700.


About the Jacksonville Sharks

The Jacksonville Sharks are members of the Arena Football League (AFL). The ArenaBowl XXIV and four-time South Division Champions are presented by Sea Best Seafood and play all home games on Sea Best Field at the Jacksonville Veterans Memorial Arena. Season Tickets for the 2015 season are now available, two tickets as low as $99. To reserve your season tickets or for more information, please call (904) 621-0700. Follow the Sharks on facebook at facebook.com/jaxsharks and on Twitter @jaxsharks, as well as the Attack Dance Team at facebook.com/sharkattackdance and Chum at facebook.com/chumsharks.


About the AFL

Since its inception in 1987, the Arena Football League has showcased a fast-paced and exciting game to millions of fans in a myriad of markets across the country. The ESPN family of networks and CBS Sports Network will nationally broadcast AFL games each week for the entire 2015 season. The AFL schedule culminates with ArenaBowl XXVIII Saturday, August 29, 2015 on ESPN.