News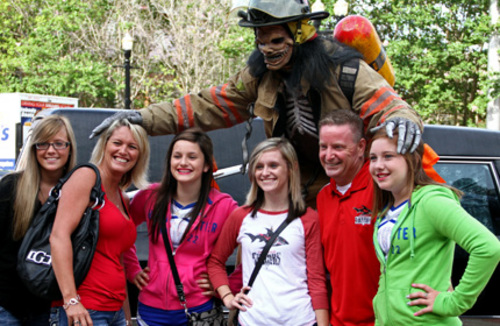 06/26/2015 10:54 AM
-
The Sharks are back in town! We're ready to host the Cleveland Gladiators on Saturday, June 27. Kickoff on Sea Best Field at the Jacksonville Veterans Memorial Arena is set for 7:00 p.m.


This is a crucial game in the South Division race, as the Sharks sit just a half-game behind the first place Orlando Predators. Jacksonville and Cleveland have already met once this season, as the Sharks captured a 46-43 victory on the Gladiators' home turf in May.


Whether you are a longtime Season Ticket Holder or about to head to your first Sharks game, please see below for a rundown of what to expect at the Shark Tank on Saturday!





Halloween in June


This week's theme is Halloween in June, so come in your favorite costume as we celebrate one of the year's best holidays a few months early!


Our friends at The Scream Park are back this year and have many spooky surprises in store! Be sure to check out their Haunted House experience on the Main Concourse across from the Merch Stand behind Section 106.





SharkFest


SharkFest is our pre-game block party held outside the arena. It'll begin at 5:00 p.m. on Saturday - what better way to kick off Halloween in June?

At Saturday's SharkFest, be sure to check out bounce houses and interactive inflatables for kids, get your hair painted courtesy of Great Clips, try samples from Krispy Kreme, and get your face painted in Sharks colors! 


Many of our other corporate partners will be set up at SharkFest as well, so be sure to stop by their displays! 





Sea Best Concession Stand


If you haven't had a chance to enjoy some delicious Sea Best Seafood at the Sea Best Concession Stand, be sure to stop by this time! It's located in the Food Court behind Section 102 - Stop by to choose from some of your favorite seafood eats!


This week, the Sea Best stand is offering their Fish and Chips for $8 (regular price $11)! 


The Sea Best Concession Stand offers the following menu:


Grilled Mahi w/ Caribbean Slaw Sandwich

Fish and Chips

Crab Cake Sliders

Torpedo Coconut Shrimp





Concession Specials


Saturday's game will feature the following concession specials: 


$9.00 Spooktacular Burger

$6.00 Specialty Pretzels


$5.00 Laughing Skull Amber Ale (while supplies last)

$3.00 Busch Light (while supplies last)




Great Clips Early Entry


Want to get into Sea Best Field before the doors open to the general public at 6:00? Take advantage of our Great Clips Early Entry - all you have to do is download the official Great Clips mobile app. Just open the app and show it at the door to beat the line!





Fling-A-Football


How's your aim? Presented by our friends at Jaguar Power Sports, our halftime Fling-A-Football promotion gives you a chance to win a prize package that includes a $400 Visa gift card and a Sharks customized jersey! At just $1 per throw (and 6 for $5), you might as well give it a shot! Be sure to have your mini-footballs ready when halftime rolls around!


To purchase Fling-A-Footballs, look for the Suite Jacksonville girls at SharkFest before the game and on the main concourse until the middle of the second quarter.



Team Poster


The 2015 Sharks Team Poster is here! Be sure to pick up your free copy and get it signed by the team during our Postgame Autograph Session!




Attack Dance Team Calendar


The 2015-16 Attack Dance Team Calendar is on sale! Calendars are available for purchase at the Attack's Pregame Signing in the main lobby, as well as at our Merch Stand, located in the Main Concourse behind Section 106. Be sure to purchase your calendar and get it signed by the Attack during our Postgame Autograph Session!





Customized Jerseys


Ever wanted a Sharks jersey with your name and your favorite number? Now it can be yours! Be sure to check out our customized jersey press in the Cage, located in the main lobby next to the Jacksonville Sports Hall of Fame.





Bucket Policy


Please note that for safety purposes, fans will not be able to bring large buckets or aerosol airhorns into the arena.




Doors Open


On Saturday, doors will open at 5:30 p.m. for season ticket holders and 6:00 p.m. for the general public. Great Clips Early Entry will be between these two times.




About the Jacksonville Sharks


The Jacksonville Sharks are members of the Arena Football League (AFL). The ArenaBowl XXIV and four-time South Division Champions are presented by Sea Best Seafood and play all home games on Sea Best Field at the Jacksonville Veterans Memorial Arena. Season Tickets for the 2015 season are now available, two tickets as low as $99. To reserve your season tickets or for more information, please call (904) 621-0700. Follow the Sharks on facebook at facebook.com/jaxsharks and on Twitter @jaxsharks, as well as the Attack Dance Team at facebook.com/sharkattackdance and Chum at facebook.com/chumsharks.





About the AFL


Since its inception in 1987, the Arena Football League has showcased a fast-paced and exciting game to millions of fans in a myriad of markets across the country. The ESPN family of networks and CBS Sports Network will nationally broadcast AFL games each week for the entire 2015 season. The AFL schedule culminates with ArenaBowl XXVIII Saturday, August 29, 2015 on ESPN.