Player Roster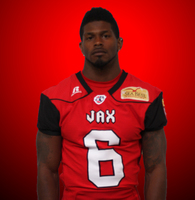 Active
Keiron Jones
#6
Position:
DB
Date of Birth:
11/30/1987
Height:
5' 10"
Weight:
185 lbs
Pro Experience:
5 years pro
College:
Southeastern Louisiana
Birthplace:
Kenner, LA
Biography:
Transaction Notes:
Signed with the Jacksonville Sharks January, 28, 2020 for his sixth season of arena football and third with the Sharks (Jacksonville: 2020-Present, Atlantic City: 2019, Maine: 2018, Arizona: 2016, Jacksonville: 2014-2015)
Professional
2019: Was a part of the Atlantic City Blackjacks of the Arena Football League (AFL) as a defensive back and kick returner. He totalled 13 tackles, three pass breakups, one forced fumble, and one interception as a defensive back. Jones returned 17 kicks for 246 yards and a touchdown as a returner. 2018: Played defensive back for the Maine Mammoths of the National Arena League (NAL). He recorded 83 tackles, 22 pass breakups, ten interceptions, and one touchdown. 2016: Played for the Arizona Rattlers of the Indoor Football League (IFL) and totalled nine tackles and four pass breakups. 2015-2014: Spent the first two years of professional football with the Jacksonville Sharks (NAL). During his career with the sharks, he totalled seven tackles, two pass breakups, and one forced fumble.

College
Jones attended Southeastern Louisiana University in Hammond, Louisiana. He originally was assigned to special teams but earned a spot as a defensive back. During his time at SLU, he recorded 53 tackles, four pass breakups, and one fumble recovery.

Personal

Jones is a native of Kenner LA. and attended Grace King High School in Matairie, LA. He was an All-District and multi-sport athlete earning a district title in the 400M while participating on the track team.