Player Roster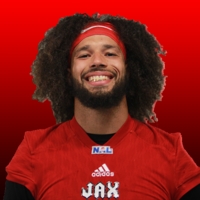 Active
Devin Wilson
#1
Position:
WR
Date of Birth:
10/13/1990
Height:
6' 3"
Weight:
210 lbs
Pro Experience:
5 Years Pro
College:
Tennessee State
Birthplace:
Nashville, TN
Biography:
Transaction Notes
Re-Signed with the Jacksonville on January 5, 2020. Enters his sixth season in Arena Football (Jacksonville Sharks: 2019-current, Maine Mammoths: 2018, Jacksonville Sharks: 2017, Cleveland Gladiators: 2016, Saskatchewan Roughriders: 2015, Richmond Raiders: 2015)
Professional
2019: Played for the Jacksonville Sharks recording a career-high 112 catches for 1,340 yards & 32 touchdowns and was named First-Team All-NAL. 2018: Played for the Maine Mammoths in their inaugural season. Recorded 79 catches for 1,035 yards and 27 touchdowns and was named First-Team All-NAL. 2017: Played for the Jacksonville Sharks and recorded 25 receptions for 237 yards and four touchdowns. 2016: Played with the Cleveland Gladiators where he racked up 21 receptions for 262 yards and nine touchdowns. 2015: Played two games in the Canadian Football League with the Saskatchewan Roughriders...Also played in five games for the Richmond Raiders of the PIFL, recording 40 catches for 483 yards and eight touchdowns.
College
Attended Tennessee State University... Overall, started in 43 games and caught 102 passes for 1,200 yards and six touchdowns.
Personal
Wilson is a native of Nashville, TN. He attended Pope John Paul II High School and was named to the All-Region football teams during his junior and senior years.
Career Statistics »
| Year | League | Club | RUSH ATT | RUSH YDS | RUSH TDS | RECEPTIONS | REC. YDS | REC. TDS | RETURNS | RETURN YDS | RETURN TDS |
| --- | --- | --- | --- | --- | --- | --- | --- | --- | --- | --- | --- |
| 2019 | National Arena League | Jacksonville Sharks | 1 | 5 | 1 | 115 | 1,340 | 32 | 0 | 0 | 0 |
| 2018 | National Arena League | Maine Mammoths | 2 | 0 | 1 | 79 | 1,035 | 27 | 0 | 0 | 0 |
| 2017 | National Arena League | Jacksonville Sharks | 9 | 31 | 3 | 25 | 237 | 4 | 1 | 15 | 0 |
| 2016 | Arena Football League | Cleveland Gladiators | 2 | 2 | 0 | 21 | 262 | 9 | 0 | 0 | 0 |
| 2015 | Professional Indoor Football League | Richmond Raiders | 0 | 0 | 0 | 40 | 483 | 8 | 0 | 0 | 0 |
| 2015 | Canadian Football League | Saskatchewan Roughriders | 0 | 0 | 0 | 4 | 41 | 1 | 0 | 0 | 0 |